I hope you didn't miss my sourdough too much on Day 7! It had a pretty uneventful day. It spent the day out at room temp, I deemed it "fully risen," and then I put it in the fridge before I went to bed.

I checked the "Berkeley sourdough" recipe today, and if my calculations are accurate, I could be eating bread by Saturday evening (it's about freaking time!)!

I took the starter out of the fridge this afternoon. It seemed a bit cold to work with, so I left it out for about an hour. I scooped out a clump about the size of a tangerine, and proceeded with step 1 of the "Berkeley sourdough" recipe, which goes as follows: "Break up the starter, dilute it in the water (2 cups warm water), and mix in the flour (2 cups organic, unbleached white or all-purpose flour). Cover this mixture loosely and set it aside in a warm spot for 18–24 hours or until it is quite bubbly." The starter is sticky! I tore it into little pieces, added them to the water, and mixed it all up with my hands. It actually dissolved almost completely, to my surprise. I really had no idea what to expect.

Starter diluted in water: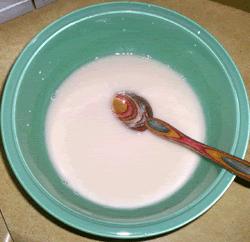 Are you jealous of my spoon? I'm quite fond of it.


Then I added my 2 cups of flour. It may surprise you to find that I do not buy organic versions of "basic" flours -- AP, whole wheat, bread, etc. I usually buy it in bulk at the health food store and trust that they quality is decent, or (if I'm feeling too lazy to drive all the way out to the health food store!) I buy King Arthur ("never bleached, never bromated") flour at the grocery store. I used 1 cup of whole wheat flour and 1 cup of bread flour, mostly because it's my usual M.O. to use "half-and-half" in recipes that call for all white flour, but also because I barely had a cup of AP flour on hand! Shocking.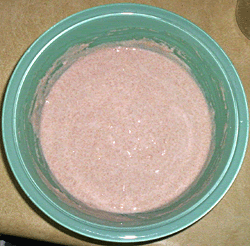 Here's how it looks at this point. I covered it with one of those Saran Wrap elasticized covers I so affectionately call "shower caps" (God, I love those things!) and set it on the counter. I hope it doesn't get too excited and over-ferment all over my counter while I'm at work tomorrow...

I had quite a lot of starter left over. I put it into a clean, smaller bowl, and stuck it in the fridge to live in dormancy for a while: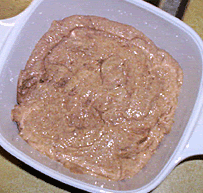 So here's my sourdough itinerary for the next couple of days: the sponge I made this afternoon will ferment away on my counter until tomorrow afternoon. I will then mix it with more flour, some salt, and some water, until it becomes actual bread dough (yay!). That will rise in the fridge overnight tomorrow (Friday). Saturday morning, the dough will come out of the fridge and sit at room temp for a couple hours. Then I will shape it, let it rise for most of the day (6 - 7 hours), and then finally bake it!