For as long as I can remember, my mother has been famous in certain circles for her biscuits. When I was pretty young, she was famous within the immediate family for making what we so affectionately called "hockey pucks." They were usually served with her homemade baked beans, aka "bullets" (sorry, Mom!).

Seriously, though -- my mom used to cook some really great things when I was a kid, and she did figure out the beans eventually. As for the biscuits, the secret unfolded when she discovered Bakewell Cream -- "a leavening agent for better baking!" Bakewell Cream was invented right here, in Bangor, Maine, in the 1940s. You can read a little more about its history here. And check out this article from a recent issue of our local paper! "Apple Ledge Company of East Holden" (referred to in the article) was actually comprised of a couple my parents have been friends with for decades.

Anyway, once she learned about this "secret" ingredient, Mom perfected the biscuit making process. No more bullets and hockey pucks on Saturday nights! She eventually became the designated biscuit maker for the monthly bean dinners at her church. People couldn't get enough of her Bakewell Cream biscuits.

Here in northern New England, it's been cool, windy, and rainy for a couple of days, thanks to the remnants of Hurricane Frances. I'm not complaining -- it's just a little rain. No death or destruction, thankfully. But this weather makes me want something comforting and homey. For some reason, tonight was just screaming "biscuits, biscuits!" Would you believe that after growing up eating so many of them, I've only actually made them once? And the ones I made weren't even "Bakewells?" Shocking, I know. That all changed this evening.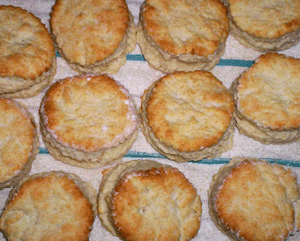 Bakewell Cream Biscuits
(recipe from the Bakewell Cream can!)



4 cups flour
4 tsp Bakewell Cream
2 tsp baking soda
1 tsp salt
1/2 cup shortening
1 1/2 cups cold milk


Mix and sift dry ingredients.

Add shortening and mix with pastry blender.

Add milk all at once, and stir quickly with a fork. (some flours may require a little more liquid to make a nice soft dough)

Turn out on floured board and knead 5 or 6 times. Roll or pat to 1/2" to 3/4" thick. Cut with biscuit cutter.

Bake at 475 for 5 minutes. Turn off heat and leave in oven for 5 to 10 minutes until golden brown.

These biscuits are extra high and light.

I consulted Mom before diving into this project. She said she uses a little more shortening and milk than the recipe calls for, because she likes the dough to be good and soft and sticky. She also sounded surprised when I read the part about baking the biscuits at 475 for 5 minutes, then turning off the oven. She just bakes them at 500 until they are done. I decided to follow the recipe closely for my first try. I measured the dry ingredients and shortening as I talked to Mom on the phone. When I hung up, I set to cutting the shortening into the flour. I don't make a lot of biscuits or pie dough, but I know enough to know that once the shortening is mixed in, the flour should have a texture more like cornmeal (mmm... cornmeal!) than flour. Mine looked a lot like flour. As I replayed the measuring sequence in my head, I realized I had only put in 1/4 cup of shortening. I remedied that situation, and continued on. I decided the dough was sticky enough for my taste with the ingredients called for. I dumped the mixture out onto a kneading mat and mushed it all together, patted it out, and cut with my biscuit cutter. Actually, I think it was a cookie cutter. It has scalloped edges. I was afraid that would affect the rising of my biscuits, but didn't really have any other choice. As you can see above, the effect was minimal. They came out really good, I think, for a first attempt! They are everything a good baking powder biscuit should be -- light and fluffy on the inside and cripsy on the outside. They are especially good split, buttered, and slathered with your favorite jam (plum for me right now!). They'll also be really good for breakfast tomorrow, toasted, buttered, and jammed.

Speaking of the phrase "baking powder biscuits," is that something you're familiar with? Or is it just a New England thing? We don't use a lot of buttermilk here, which I know is popular in southern biscuit recipes. And those biscuits from a can, you know the ones, are NOTHING like the ones we make around here. Just curious. What are biscuits like in your part of the world?