Friday is my friend/co-worker Derrick's last day at the station. You may remember him as the one who helped me invent the Limeburner a couple of months ago. He is going on to what he hopes will be bigger and better things, in Indianapolis. I'm not sure how anyone can live that far away from the ocean… and neither is he. But opportunity is knocking there. I wish him lots of luck and happiness.


As is our tradition when someone leaves the "Morning Crew," we are having a little party for Derrick on Friday. This means those of us who remember will bring in some kind of fun food, and there will be a card and probably a little parting gift. I, of course, will jump on any opportunity to bake something, so I spent a little Quality Time with some of my cookbooks this afternoon. As is so often the case, I found something in my favorite bread book, "Smart Bread Machine Recipes" by Sandra L. Woodruff. For the sake of creating as many blog entries as possible, I am stretching this project out over two days. It will make sense as you read along. =)

Oat-Bran Refrigerator Dough
1 pound 1 ½ pound
bread flour 2 cups 3 cups
oat bran 1 cup 1 ½ cups
yeast 2 tsp 1 tbsp
sea salt ¾ tsp 1 1/8 tsp
sugar 1 tbsp 1 ½ tbsp
lecithin granules or vegetable oil 4 tsp 2 tbsp
skim milk or water 1 cup + 1 tbsp 1 ½ cups + 2 tbsp
Put everything in the machine's bread pan, and turn the bread machine on its RISE setting. Remove the dough after 25 minutes. Place the dough in a large bowl coated with cooking spray. Cover and refrigerate the dough for at least 6 hours and up to 2 days. You may also freeze the dough and thaw it when you're ready to use it. When ready to use, proceed with any of the following variations; use a food scale to weigh the required amount of dough. The smaller machine makes 1 ¼ pounds of dough; the larger machine makes about 1 ¾ pounds.
Surprised to see me make bread dough that's mostly white flour? Come on… it's a party!
I made the larger recipe, using lecithin granules and whole milk (because it's what I have!). I assumed that when the recipe said to "remove the dough after 25 minutes," it meant to put it in the fridge as soon as it was done being mixed and kneaded. My machine happens to take 30 minutes for those processes. I let it go. I can't imagine 5 extra minutes will render the dough useless!
Here's the dough in its bowl, ready to live in the fridge for about 20 hours…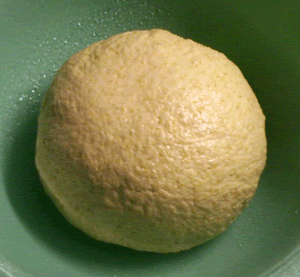 Tomorrow, find out what I have chosen to make with this dough!
PS: My pitas do, in fact, make pretty good pizza crust!