I know -- that's an extremely overused, cheesy, tacky cliche, but I'm coming down with another stupid cold*, and am feeling rather uninspired as a result.

My two latest "things" are old cookbooks and bread. There's a great used bookstore in downtown Bangor called Lippincott's, where Kevin and I have been spending a fair amount of time lately. They have a great cookbook section. Now that I'm on a bread kick, I dug out a book I bought there in May. Shockingly enough, it was near the bottom of a pile of other cookbooks.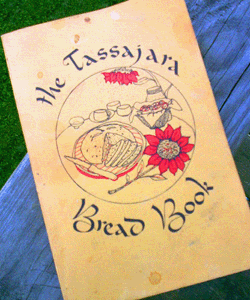 It was originally published in October of 1970 (hey -- that book and I are the same age!), and this is an edition from that year. I have seen an updated version around, but this is much more fun. It's a very hippy-dippy, crunchy-granola kind of book... right up my alley! I was reading it as I lay in the hammock at my parents' house this afternoon, and the following passage jumped out at me: "Certain items will assist you in making bread, though few of them are strictly necessary. Heavy, brown, ceramic bread bowls are available. These hold and distribute heat well. Pre-heating the bowl allows the baby bread dough to feel at home and warmly held." What a happy thought. I want a heavy, brown, ceramic bread bowl.


---


* Yes, I just had a stupid cold in June. Before that, I hadn't had one in more than two years!

Now, don't you think that if you can't go five minutes without sneezing and blowing your nose, and you can't talk, and you're at the height of contagiousness, that maybe you should stay home for a day or two, for your health and that of your co-workers?!? ESPECIALLY when you and a certain co-worker (me!) tag-team on a switcher, and trade off the headset/mic? See all those buttons and levers on the switcher? They hold a lot of germs! Those disinfectant wipes aren't all they're cracked up to be.