---
About Me
---
My Other Blog
---
An Amazingly Accurate Representation of ME!
Created at...
Portrait Illustration Maker
---
Today I Feel...


---

Bangor, Maine
Current Conditions
---
New York, New York
Current Conditions
---
My Favorite Food Blogs:

Bento TV
Diary of the Food Whore
A Finger in Every Pie
Le hamburger et le croissant
My Little Kitchen
The Red Kitchen
Super Eggplant
Vegan Lunchbox

---
Other Sites I Frequent:
Delicious TV
Food Network
Food Porn Watch
Geocaching
Knitting Sunshine
Stories from the Gymrat
WABI TV5
The Way Life Is
---
---
---
RSS Feed
(This is new to me, but I think it will work!)
---
---
All content on "Culinary Epiphanies," including all text, photographs, images and any other original works (unless otherwise noted), is copyrighted © 2004 - 2009 by Kelli Hanson, with all rights reserved. Please contact me for permission to copy, publish, broadcast, distribute or display the work.
---
---
Contact Me
Sunday, December 12, 2004
On a trip to
Wild Oats
in Portland last month, I bought a jar of almond butter. I had been reading a book on macrobiotics, and for reasons that were not revealed, almond butter is the only nut butter the author thinks we should consume. It sounded pretty good to me! When I got it home and tried it, I was pretty disappointed. It tasted a lot like peanut butter, but with a less intense flavor. I don't know exactly what I expected, but it was something other than that. I went back to my Maranatha organic peanut butter, and the almond butter sat in the cupboard... until...
Earlier this week, I saw a recipe for
"Almond Unsparkle Cookies"
at
Tenacious Flog
. What a perfect opportunity to use up that almond butter! The cookies sounded intriguing, and I thought maybe the recipe would highlight the almond flavor a bit more that just eating it on crackers did. Here's my version of the recipe...
Almond Sparkle Cookies

1 cup Sucanat
1 cup almond butter
1/2 teaspoon baking soda
1 teaspoon vanilla extract
2 eggs
Demerera or Turbinado sugar
Lightly beat eggs in medium bowl. Add sugar, vanilla, and baking soda; combine. Fold in almond butter. Chill for 1 hour. Drop by tablespoons (I have a tablespoon sized "disher," like a tiny ice cream scoop, that I LOVE for making drop cookies!) onto silpat, parchment lined pan, or greased cookie sheet. Sprinkle with turbinado/demerera.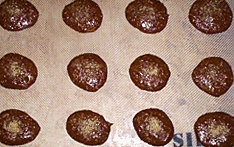 Kinda looks like the cow pasture across the road from where I grew up... but anyway.
Bake at 350, 9 - 10 minutes. Cool completely before removing from pan.
What an oddly gooey, sticky batter this makes! I chilled it for about 45 minutes, and the batter still spread quite a lot as I dropped it, and then even more as the cookies baked. These are close to 4" in diameter!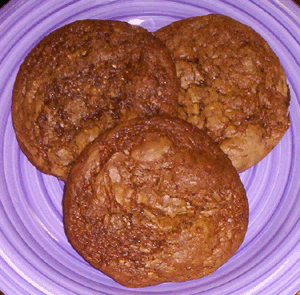 They just don't look like the ones on Tenacious Flog... and, of course, this is the batch I forgot to sprinkle with sugar, so these would be more like the "Almond Unsparkle Cookies." Sorry... the ones with the sugar did sparkle a bit! =)

They're not bad, but they do, in fact, taste a lot like peanut butter cookies. The texture is fascinating to me -- I never would guess that they had no flour if they were served to me! They're very soft, and almost cakey, and light and puffy. Very interesting...

I will probably try these again sometime, but I need to figure out how to keep the batter from spreading. Maybe I should chill it, spoon it out onto the cookie sheet and then chill it some more? Or even put it in the freezer for a bit?
Posted at 12/12/2004 5:51:51 pm by
KelliMelli
Permalink
Friday, December 10, 2004
Sugar High Friday #3: Spice Up Your Winter!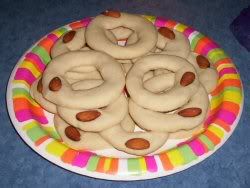 The past couple of Sugar High Fridays have gotten past me. I had every intention of participating in
this month's edition
, hosted by Zarah Maria of
Food and Thoughts
, but never really gave much thought to what I would make... until it almost got by me again! This month's theme is "Spice Up our Winter," with the condition that either (or all!) nutmeg, cardamom, or allspice be the featured ingredient. During last weekend's
cookie baking extravaganza
, Kevin and I just so happened to have made something that fit the bill perfectly -- and it was completely unintentional! Cardamom is a spice that Kevin and I both love, and we made Arabic shortbread cookies from
allrecipes.com
. We chose this recipe for its simplicity and short ingredient list (and copious amounts of cardamom!), but it wasn't until the next day that I realized it was the
perfect
entry for Sugar High Friday! PLEASE don't ask me to pronounce this, but these cookies are called...

Ghoraiybah
Ingredients:
1 cup butter, softened
1 cup sifted confectioners' sugar
2 cups all-purpose flour
1/2 teaspoon ground cardamom
12 almonds, split (optional)
Directions:
1. Preheat the oven to 300 degrees F (150 degrees C).
2. In a medium bowl, stir together the butter and sugar until smooth. Stir in flour and cardamom until well blended. Pinch off tablespoonfuls of dough, and roll into a thin rope. Join the ends together in a circle, and place on a greased cookie sheet. Place almond halves on the joints where the circles come together.
3. Bake for 20 minutes in the preheated oven. The cookies should remain white, but may turn golden at the very edge.

After mixing the first batch, we tasted the dough and decided more cardamom was in order. We added another 1/2 teaspoon and deemed it good. We divided the dough into 24 pieces, rolled them into ropes, and formed rings from the ropes. The first 12 we baked off spread quite a bit, and looked a lot like doughnuts when they came out of the oven! We chilled the rest before baking, and they came out great, as you can see above. Then we made a second batch!

I think the recipe intends for the almonds to be skinless, and I know it wants us to use halves, but we were a bit lazy and used whole almonds with their skins. I'm sure it's an aesthetic thing... but I like ours anyway. =) They're tender, buttery, and spicy. In fact, I think Kev and I could have used even another half teaspoon of cardamom and been pretty happy!
Posted at 12/10/2004 3:14:39 pm by
KelliMelli
Permalink
Thursday, December 09, 2004
On a Completely Unrelated Note...
Does anyone else sometimes think that
Alton Brown
has just a tiny bit too much time on his hands? Now, you all know how much respect and admiration I have for the man, but last night, on the
"A Cake on Every Plate"
episode of
Good Eats
, he was wearing a
perfectly
tailored aluminum foil suit! =)
Posted at 12/9/2004 7:49:08 pm by
KelliMelli
Permalink
This New England bread has a story behind its name.

A New England farmer had a lazy wife named Anna who would serve him the same tiresome dish of cornmeal porridge every day. One day he became disgusted and decided to take matters into his own hands. He began adding whatever he could find in the kitchen to his porridge: some flour, some mead, and some molasses. He then shaped it into a loaf and threw it on the fire. When he finally tasted his creation he decided he could easily get through life without his good-for-nothing wife, and exclaimed, "Anna, damn her!"

-Tony Lacalamita
"The Ultimate Bread Machine Cookbook"
***

It shouldn't come as any great surprise to anyone who knows me and/or reads this blog that this is one of my favorite breads -- one of its star ingredients is, of course, cornmeal! And really, what's wrong with a loaf of bread sweetened with a good, healthy dose of molasses?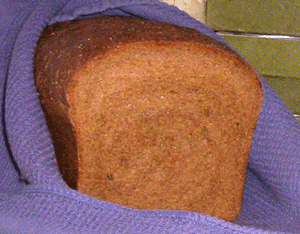 I have a few different recipes for this bread between my many bread books. I didn't make Tony's version today, though, because it calls for lemon juice, and I am fresh out. Instead, I turned to Beth Hensperger's
"The Pleasure of Whole-Grain Breads."
I actually don't use this book very often because a lot of the recipes call for ingredients I just don't keep around... but today, Beth came through for me. Here's her recipe for...

Bread Machine Whole-Wheat New England Anadama Bread

makes 1 1-1/2 pound loaf
Ingredients:
1-1/4 cups water
1/4 cup molasses
1-1/2 tablespoons unsalted butter, melted
2 cups bread flour
1 cup whole-wheat flour
1/3 cup medium-grind yellow cornmeal
4 teaspoons vital wheat gluten
1 teaspoon salt
1-3/4 teaspoons bread machine yeast
1. Place all of the ingredients in the pan according ot the manufacturer's instructions. Set crust on medium and program for the basic or whole-wheat cycle; press start.
2. After the baking cycle ends, remove the bread from the pan and place on a rack to cool to room temperature.
The only major change I made was with the flour: I used one cup unbleached white bread flour, one cup whole-wheat bread flour, and one cup stoneground whole-wheat flour. I also used 2 teaspoons of yeast, because I had active dry and not bread machine yeast. And, as always, I baked it in the oven instead of in my machine... at 350 for about 45 minutes.
This is a wonderful, soft, slightly sweet bread with a great texture (gotta love that cornmeal!). It works well for both sweet and savory sandwiches -- my favorites being
pb& j
and
grilled cheese
! It also makes fabulous toast. Breakfast tomorrow will be a couple slices of this, toasted, and topped with European-style butter and plum jam. Mmmmmm... plum jam...
Posted at 12/9/2004 7:34:56 pm by
KelliMelli
Permalink
Wednesday, December 08, 2004
On the 1st Day of Cookies, Food Network Gave to Me...
... nothing.
On the 2nd Day of Cookies, Food Network gave to me...
... nothing.
On the 3rd Day of Cookies, Food Network gave to me...
... nothing.
Do you see where I'm going with this one? I signed up for
Food TV's
"Twelve Days of Cookies" newsletter a couple weeks ago, as I have for the past several years, but something's different this year. As in, I'm not getting the e-mail. So I'm sending out this somewhat pathetic cry for help: is there anyone out there who
is
getting the newletters, and would be willing to forward them to me? I would
so
greatly appreciate it, and would gladly return the favor somehow, someday. I'm going to try to sign up again, and see if they start coming, but I think I've missed at least half already. I have three years' worth of cookie recipes so far and would
hate
for my collection to be incomplete! Thanks! =)
Posted at 12/8/2004 7:43:40 pm by
KelliMelli
Permalink