---
About Me
---
My Other Blog
---
An Amazingly Accurate Representation of ME!
Created at...
Portrait Illustration Maker
---
Today I Feel...


---

Bangor, Maine
Current Conditions
---
New York, New York
Current Conditions
---
My Favorite Food Blogs:

Bento TV
Diary of the Food Whore
A Finger in Every Pie
Le hamburger et le croissant
My Little Kitchen
The Red Kitchen
Super Eggplant
Vegan Lunchbox

---
Other Sites I Frequent:
Delicious TV
Food Network
Food Porn Watch
Geocaching
Knitting Sunshine
Stories from the Gymrat
WABI TV5
The Way Life Is
---
---
---
RSS Feed
(This is new to me, but I think it will work!)
---
---
All content on "Culinary Epiphanies," including all text, photographs, images and any other original works (unless otherwise noted), is copyrighted © 2004 - 2009 by Kelli Hanson, with all rights reserved. Please contact me for permission to copy, publish, broadcast, distribute or display the work.
---
---
Contact Me
Monday, November 08, 2004
You'll Never Buy Granola Bars Again!
Here's how much of a cooking show junkie I am: sometimes, in the early evening, while I'm in wind-down mode, I'll flip the TV to PBS to see if anyone's cooking anything on
"Zoom."
Not that I'm embarassed to admit that. I'm just saying I explore all available resources (though I have to say, the new show just isn't quite as cool as the 70s version I grew up with)! On one such channel-flipping day a couple of years ago, they were making granola bars. I love granola bars, as long as they're not disguised as candy bars (Kudos, anyone? yeeccchhh!). I like good, simple, healthy bars. This recipe fits the bill pretty well.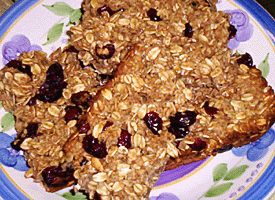 Homemade Granola Bars
Here's what you will need to make it:


4 tablespoons melted butter
1/2 cup honey
1 teaspoon vanilla
2 eggs lightly beaten
1/4 teaspoons salt
1/2 cup whole wheat flour
2 teaspoons cinnamon
1/2 teaspoon baking powder
4 cups quick oats
1 cup raisins
greased 9"x13" baking pan
2 mixing bowls

Here's what you have to do:
1. Check with a grown-up before you start this.

2. Preheat the oven to 350 degrees.
3. Mix 4 tablespoons melted butter, 1/2 cup honey, 1 teaspoon vanilla, and 2 eggs in a bowl.
4. Mix 1/4 teaspoon salt, 1/2 cup whole wheat flour, 2 teaspoons cinnamon, 1/2 teaspoon baking powder, and 4 cups quick oats in another bowl.
5. Gradually add the dry ingredients to the wet ones mixing it really well.
6. Then, mix in 1 cup raisins.
7. Spread mixture into a greased 9"x13" pan.
8. Press the batter down so that it's spread evenly in the pan.
9. Bake for 15 minutes or until the top is golden brown. Make sure you use oven mitts when taking them out of the oven.
10. Once they've cooled, you can slice them into bars.
11. Bon Appetit!

I don't alter this recipe too much... except I use 2 cups quick oats and 2 cups regular oats, and I use Craisins instead of raisins. I have made this recipe quite a few times, always with great results. They are so easy to make, and so easy to take to work for breakfast!

These are soft bars. They're not break-your-teeth crunchy, but they're not Rice-Crispies-Treats gooey and crispy, either. They're not icky-sticky sweet. In fact, the Craisins add a nice tartness, and there's just a bit of warmth from the cinnamon.

I did a quick nutritional analysis with some handy-dandy software I downloaded. The bars have a little more in the way of calories than I expected, but they're reasonably low in fat, and high in fiber and protein. This is, of course, an estimate based on approximate ingredients, but here's what I came up with: if 16 bars are made from this recipe, each bar has 263 calories, 6.3 grams of fat (2.5 saturated), 5.2 grams fiber, and 7.9 grams protein. I usually eat two of them for breakfast. I'm not too worried, since most of what I eat throughout the rest of the day is low in calories and fat. And what a great way to eat some oats that aren't slimy and soupy! =) And they really do taste a lot better than they look in my picture.
Posted at 11/8/2004 5:18:26 pm by
KelliMelli
Permalink
Sunday, November 07, 2004
I am in full-on fall mode! The hats, gloves, mittens, and scarves have come out of storage (fall here often means wintry weather!), the annual Reading of the Laura Ingalls Wilder Series has commenced (have I mentioned that lately?), and everything I eat lately seems to be earthy and earth-toned: browns, reds, oranges...
apples,
cranberries,
squash,
spicy cookies...
Today it's sweet potatoes. Feeling rather orangey, I decided to attempt to re-create the sweet potato fries Kevin and I had at
Silly's
last weekend (and I swear, I will blog about that soon!). They were beautifully browned and crispy, and served with honey mustard. I've never cared much for honey mustard, but it really worked with those fries!
I cut up one large sweet potato into kinda-sorta-fry shapes and laid them on a cookie sheet spritzed with olive oil. I misted the tops of the fries with a bit more oil, and put them into a 450 oven until they looked like this: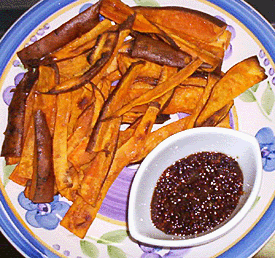 Not half bad, if I say so myself! Rather than honey mustard, I thought this would be the perfect opportunity to try the
Raye's
Fall Harvest Mustard that's been in my cupboard for months because I didn't know what to do with it. With ingredients like whole mustard seeds, cranberries, and onions, how could I possibly resist?!? And don't you love the little dish it's in? It's called a "fortune dish." I bought four of them at
Crate & Barrel
a few weeks ago at a whopping 75 cents each! But I digress...
These weren't as crispy as Silly's fries were, but I'm sure theirs were deep fried. Mine were good anyway. It's hard to go wrong with sweet potatoes. And the mustard was nice, but a bit too sweet. Silly's honey mustard had enough tanginess and spiciness to complement the fries, whereas this mustard just made for too much sweetness. I think it will be much better on a nice grilled cheddar sandwich.
Posted at 11/7/2004 4:30:36 pm by
KelliMelli
Permalink
Wednesday, November 03, 2004
The weather here suddenly wants to be wintry, but I'm not done with fall yet! Today, I baked something
so
warm, cozy, and autumnal...
I don't want to seem like a copycat blogger, but I have recently discovered
"Something So Clever,"
and when I saw
this recipe
, I
knew
I had to try it. Be sure to check out Ali's site for the original recipe, and just to poke around -- it's a great site! And I
swear
I have every intention of putting a link to it with my other food blog links -- I've just been very lazy about modifying my page lately.
Here's how I had my way with Ali's recipe...
Soft Ginger Cookies

Ingredients:
1 1/4 cups all-purpose flour
1 cup whole-wheat flour
1 tablespoon ground ginger
1 teaspoon baking soda
3/4 teaspoon ground cinnamon
1/2 teaspoon ground allspice
1/4 teaspoon salt
3/4 cup unsalted butter, softened
1 scant cup Sucanat
1 egg
1 tablespoon water
1/4 cup molasses
1 cup confectioner's sugar
3 tablespoons apple cider
Directions:

1. Preheat oven to 350 degrees F (175 degrees C). Sift together the flours, ginger, baking soda, cinnamon, allspice, and salt. Set aside.
2. In a large bowl, cream together the butter and Sucanat until light and fluffy. Beat in the egg, then stir in the water and molasses. Gradually stir the sifted ingredients into the molasses mixture. Shape dough into walnut sized balls. Place the cookies 2 inches apart onto an ungreased cookie sheet, and flatten slightly.
3. Bake for 8 to 10 minutes in the preheated oven. Allow cookies to cool on baking sheet for 5 minutes before removing to a wire rack to cool completely.
4. Whisk together confectioner's sugar and cider. Drizzle over completely cooled cookies. Store in an airtight container.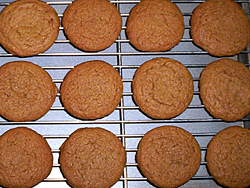 Cooling...



And glazed!

OK, so I'm not the World's Best Glaze Drizzler. But YUM! The cider in the glaze is subtle, but definitely detectable, and it goes
so
well with the spicy cookies.
Thanks, "Alicat," for visiting my site, so I could discover yours -- and this recipe! =)
Posted at 11/3/2004 5:58:26 pm by
KelliMelli
Permalink
Monday, November 01, 2004
Kevin only got one day off last week -- Friday -- so we decided it would be easier for the two of us to meet in
Portland
, rather than having him trek all the way up here to spend fewer than 24 hours. Portland is a fun city, and I'll use any excuse to spend a day or two there! I especially love the
Portland Public Market
and
Wild Oats
. I sure know how to live!
Friday morning, I Googled "Portland Maine vegetarian restaurants." I got a few good leads with the first couple of matches, but there was one match that really caught my eye: its description contained the word "falafel!" Falafel makes me very happy. The restaurant is called "Silly's." It's not strictly vegetarian, but it's considered to be "vegetarian friendly." I will blog lots more about Silly's later this week... but that entry is going to take some time to write!
After dinner at Silly's, we headed for Wild Oats. I am such a party girl! It's just so amazing to me to have so many natural and/or organic foods right at my fingertips... a whole store full! I bought some almond butter, Concord grape all-fruit spread, Terra Chips, ak-mak, and a few other small items. It may not sound exciting to you, but it was fun for me. =)
Then we headed for the
Old Port
section of town. It's on the waterfront, and has lots of old buildings full of bars, restaurants, and fun shops (most of which were closed by the time we got there!). We weren't in much of a bar mood, but I was
dying
for some tea. Do you know how hard it is to find an open tea room at 9pm? Quite. We finally happened upon one of
Breaking New Grounds'
shops. We've bought their coffee at the Public Market several times, and it's just plain fantastic. Coconut Cream is our favorite. Sounds a little gross, doesn't it? But is it
so
good. Fortunately, they have a great selection of tea, too. I chose the "BNG House Chai." The girl warned me that it "pretty spicy -- is that OK?" Hells, yeah, that's OK! It turned out to be very good, but not much spicier than most chai I've had. I think she overfilled the tea bag a bit, so the water couldn't flow through freely enough, but that's just a theory. It smelled spectacular. I think it had potential, and I'm a tea snob, and it just wasn't prepared properly. Anyway.
Saturday morning we headed for Boston. Kev had to work that night, but I wandered Harvard Square for a while and ended up at
The Wrap
. I'd been wanting to try it for a couple of months. This was my chance! I chose the "Bangkok --" a flour tortilla stuffed with rice, cucumber, onion, Asian slaw, baked tofu, and spicy peanut sauce.
YUM!
It was so good. I can't wait to go back and try some of their other wraps! The "Peking" sounds exceptionally intriguing. Oh, and the prices are great, too. I had a very satisfying wrap and a 20 oz. drink for not quite $6.
Sunday morning, of course, meant a quick brunch at
Au Bon Pain
before I had to head home. I know, it's a big, evil chain store/ French boulangerie wannabe, but we still like it. Kevin practically lives on their fruit, yogurt, and granola parfaits, and I love the cranberry-blueberry muffins and fresh OJ.
I apologize for the lack of pictures in this post, but I think I've mentioned before that I just can't bring myself to take pictures in restaurants. I don't want to see flash bulbs going off while I eat, and I like to extend the same courtesy to my fellow diners. But check out the links I've included, and some of the places I've mentioned if you find yourself in northern New England! It was a fun weekend with lots of fun food.
Posted at 11/1/2004 4:55:26 pm by
KelliMelli
Permalink
Thursday, October 28, 2004
I bought the prettiest little squash the other day...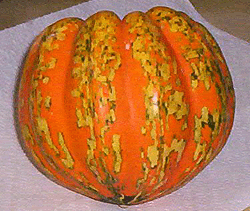 It's called a "carnival squash." I'd never heard of it before, but it was with all the other winter squash, of which I am quite fond. I couldn't resist that skin! It looked to me like it had been sponge painted. This particular squash was
custom-made
for one -- it's not much bigger than a grapefruit!
To me, the best way to eat sweet, orange-fleshed winter squash is to halve or slice it, brush it with a little olive oil, sprinkle it with a bit of salt and pepper, and roast it until it gets tender and caramelized. I didn't have the best of days today, so I thought a little caramelly roasted winter squash would be the perfect comfort. I sliced, oiled, salted, peppered, and roasted until I had this: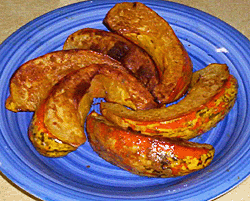 How could anyone resist that? I grabbed a fork, sat down, and scooped a bit of the flesh from its skin... and was gravely disappointed. It was nearly flavorless. It had none of that lovely soft, mealy sweetness that epitomizes winter squash. It had a taste and texture more like summer squash, of which I am not so fond. I don't know if this one was just too small, too "green," too young... but it just wasn't what I thought it should be. Maybe I'll try a bigger one another time... but for now, I'll stick to my tried-and-true favorite: buttercup squash. And the potatoes that are roasting in the oven as I write.
Posted at 10/28/2004 5:04:17 pm by
KelliMelli
Permalink