---
About Me
---
My Other Blog
---
An Amazingly Accurate Representation of ME!
Created at...
Portrait Illustration Maker
---
Today I Feel...


---

Bangor, Maine
Current Conditions
---
New York, New York
Current Conditions
---
My Favorite Food Blogs:

Bento TV
Diary of the Food Whore
A Finger in Every Pie
Le hamburger et le croissant
My Little Kitchen
The Red Kitchen
Super Eggplant
Vegan Lunchbox

---
Other Sites I Frequent:
Delicious TV
Food Network
Food Porn Watch
Geocaching
Knitting Sunshine
Stories from the Gymrat
WABI TV5
The Way Life Is
---
---
---
RSS Feed
(This is new to me, but I think it will work!)
---
---
All content on "Culinary Epiphanies," including all text, photographs, images and any other original works (unless otherwise noted), is copyrighted © 2004 - 2009 by Kelli Hanson, with all rights reserved. Please contact me for permission to copy, publish, broadcast, distribute or display the work.
---
---
Contact Me
Sunday, November 21, 2004
This month's installment of Is My Blog Burning? is hosted by The Domestic Goddess herself, Jennifer. The theme she chose is "Holiday Cookie Swap." Yay! A baking project! I actually don't bake cookies that often, and I've already posted about the few I do bake, so this was actually a bit of a challenge for me. I have tons of cookbooks, but most of them are either bread books or vegetarian books. You wouldn't belive how hard I had to search for just the right recipe for this project! One finally jumped out at me from the pages of a recent "Woman's Day" magazine (it was my mom's, I swear!). This particular issue had a little tear-out cookbook called "The Christmas Cookie Jar." It's just a little 8 page insert with 8 or 10 cookie recipes, but one of those recipes screamed "bake me, bake me!"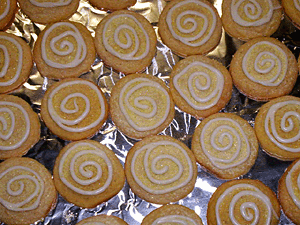 Cornmeal Lemon Drops

2 sticks (1 cup) butter, softened
1/2 cup each granulated sugar and packed light-brown sugar
1/2 tsp baking soda
1/4 tsp salt
2 large eggs
2 tsp grated lemon peel
1 tbsp lemon juice
1-3/4 cups all-purpose flour
3/4 cup yellow cornmeal
Icing (recipe follows)
40 lemon drop candies, finely crushed
You also need: a wire strainer

1. Beat butter, sugars, baking soda and salt in a large bowl with mixer on medium until fluffy. Beat in eggs, lemon peel and juice until well blended.

2. On low speed, gradually beat in flour and cornmeal until blended.

3. Heat oven to 350. Drop rounded measuring teaspoons dough 2 in. apart on ungreased baking sheet(s).

4. Bake 6 to 8 minutes or until golden brown around the edges. Cool on sheet 1 minute before removing to wire rack to cool completely.

5. Scrape Icing into a sturdy ziptop bag. Snip tiny tip off 1 corner and pipe a spiral on each cookie. Before icing dries, spoon crushed candies into sieve and dust tops. Let dry completely. Store airtight with wax paper between layers at room temperature up to 1 week.

Icing: Whisk 1-1/2 cups confectioners' sugar and 2 tbsp milk in a bowl until smooth.

I didn't futz with this recipe too much... I used 1/2 cup fine cornmeal and 1/4 cup coarse, and for the icing I used lemon juice instead of milk. It almost made too much sense to do so! =)

These cookies are a bit more labor-intensive than I am used to, but they are well worth it. They're soft and lemony with a nice little crunch from the cornmeal. Anyone who reads this blog on a regular basis knows how much I love cornmeal! They were also a huge hit with Kevin. Now I'm working on a lime version!
Posted at 11/21/2004 8:36:37 am by
KelliMelli
Permalink
Monday, November 15, 2004
Kevin sent me
this link
last night (yes, you must register with washingtonpost.com to read it -- sorry.).
I am one of those crazed fans in the story who would follow Jacques Torres around at a chocolate expo. He is so cool. I love him. Don't worry -- Kevin is completely secure with that knowledge. =) He's just so adorable -- his accent, his smile, his genius with chocolate and sugar... I want to work for him. How cool would that be? Learning all his secrets? Making all that beautiful candy? The man truly is an artist. He's exceedingly talented.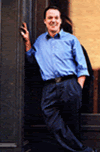 I borrowed this picture from Jacques' site. Does crediting it keep me out of trouble? Here's hoping!

Kev took me to NYC last February for a Christmas/Valentine's Day/4th anniversary of being together present. I'd only been there once before, so I had no idea what I wanted to do or see... except I knew I
had
to go to Jacques' chocolate factory. I wouldn't leave the city without going. We wandered the city for a while until I couldn't stand it any longer. Kev, we
have
to go to Brooklyn! OK. How do we get there? I, of course, had left the directions at his parents' house... in New Haven, CT. Duh. But I remembered just enough to get us there! Keep in mind, this was Valentine's Day. On a Saturday, no less. We found the factory, and the line was out the door and halfway down the block. It was sunny, but breezy and cold. Kev thought I was crazy, but I wasn't leaving until I got inside that store. I talked him into waiting in line. Guess who was passing out little Dixie cups of hot chocolate to the people in line...? The Man himself! I was bouncing up and down with excitement. I had only half expected him to actually be at the store that day, let alone schmoozing with his admirers! Here's the best part: we got far enough up the line to be standing in the doorway when Jacques went inside to refill his hot cocoa bucket. He brushed up against me on his way in! >sigh< It was a perfect day.
Once inside, I bought way too much stuff... chocolate covered macadamia nuts (to die for!), champagne truffles, a tin of Wicked Hot Chocolate mix, some raspberry sauce... it was all just so beautiful. And seriously, those macadamia nuts were some of the best things I've ever eaten. You can buy them on Jacques' website.
How weird am I? Some people fawn over Brad Pitt. I'd choose Jacques any day!
Posted at 11/15/2004 5:39:55 pm by
KelliMelli
Permalink
Saturday, November 13, 2004
I'm back in Boston for the night. How weird is it that I had to come here to see my first snow of the season?!? =) We have had a few flurries in my part of Maine, but no accumulation yet. Here, there are two or three inches of snow on the ground! That's just a dusting to me, but it pretty much shuts down this city. I'd show you how it looks if I hadn't left my camera in my car... in Portland.
I think I'll go to
Au Bon Pain
now for some tea and something I shouldn't eat. Mmm... pastry...
Posted at 11/13/2004 4:12:31 pm by
KelliMelli
Permalink
Thursday, November 11, 2004
... an epiphany this afternoon. Introducing...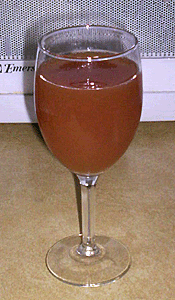 ... the Ciderburner!

It may not look like much, but it packs a (non-alcoholic) punch. It's half good, fresh, local apple cider and half Reed's Premium Ginger Brew. I was afraid the cider would overpower the ginger. I was wrong. All you taste at first is apple, but then the ginger really kicks in.

---
I don't generally like many of the movies that the masses seem to enjoy so much. I am, however, a complete
Pixar
nut. "Toy Story" is easily one of my Top 5 Favorite Movies of All Time. When I first saw previews for
"The Incredibles"
(
many
months ago -- when we saw "Nemo," I think!), I thought it looked like one of their typical goofball/hero buddy movies. As opening day got closer, and I saw more previews, I got a little scared. It looked totally corny and cheesy, and I wasn't sure it would be any good. This afternoon, I was proved wrong. Kev and I saw it, and we were far from disappointed. I'm not going to ramble on or give away any major storylines, but I will say that it is
fantastic
. It's not at all Pixar's typical buddy movie, but it has all the wit, humor, excitement, and genius of all their previous films. There are so many clever subtleties in this movie. And whoever was in charge of water simulation deserves a Nobel Prize for Animation. Yes, I'm just enough of a TV techie geek to recognize and fully appreciate the beauty of that animated water.
All I'll tell you is this: don't let the trailer with Mr. Incredible squeezing into his Superhero suit fool you. He's no slouch.
I see why
The Food Whore loves Edna Mode
so much. I think that maybe she
is
Edna (only with food, not clothing). =)
Posted at 11/11/2004 8:03:35 pm by
KelliMelli
Permalink
Wednesday, November 10, 2004
It appears as though this week, I'm all about the red foods... or more specifically,
cranberries
. I've been lucky enough to find the biggest, reddest, most gorgeous
locally grown
cranberries at the grocery store over the past couple of weeks, so I'm stocking up.

Look, Ma -- no color correction!
Some will get used soon, while others get frozen for later. I like that you can just throw them in the freezer in the bag they came in! I
love
when cranberries are in season, because I get to make my favorite cookies: Cranberry Bog Oatmeal Cookies. The recipe comes from "The Global Vegetarian," by Jay Solomon. I have to admit, I don't cook much out of this book, but there are two recipes I use a lot -- this one, and "Provencal Soupe au Pistou." (side note: I promised
Clotilde
months ago that I would post that soup recipe... and I haven't forgotten! I make it often in the winter, so its chance will soon come.)
Cranberry Bog Oatmeal Cookies

4 tbsp margarine, softened
1 cup brown sugar, packed
1/2 cup applesauce
1 large egg
2 tbsp molasses
2 tbsp water
1 tsp vanilla extract
2 cups rolled oatmeal
1 cup unbleached all-purpose flour
1/2 tsp cinnamon
1/2 tsp nutmeg
1/2 tsp salt
1/2 tsp baking powder
1 cup cranberries
1/2 cup diced walnuts
In a large mixing bowl or mixer, blend the margarine and sugar together until light. Beat in the applesauce, egg, molasses, water, and vanilla.
In a medium bowl, mix together the dry ingredients. Gently fold the dry ingredients into the wet ingredients. Fold in the cranberries and walnuts. Cover and chill the dough for 30 minutes.
Preheat the oven to 375.
Using an ice cream scooper, scoop the dough onto a lightly greased cookie sheet. Bake for about 20 minutes, until lightly brown. Cool on a rack for 10 minutes before serving.
Makes about 12 cookies.
I rarely mess with this recipe, except I always use real butter instead of margarine. No fake processed butter imitations for me! I also always substitute toasted pumpkin seeds for the walnuts, which (I may have mentioned this once or twice!) I quite strongly dislike. Today, however, I was feeling frisky and experimented just a bit. I used whole wheat flour instead of AP, and upped the cranberries to 1-1/2 cups. They were just so beautiful, I couldn't stop at one cup! =)
The change in flour had no negative effect whatsoever. And the extra berries, of course, only made these cookies even better! Oh, and I got
15
cookies out of this batch!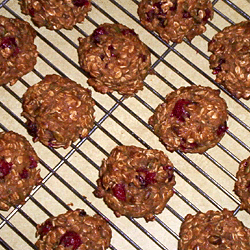 I can't even
begin
to tell you how much I love fresh cranberries.
Posted at 11/10/2004 5:47:30 pm by
KelliMelli
Permalink