---
About Me
---
My Other Blog
---
An Amazingly Accurate Representation of ME!
Created at...
Portrait Illustration Maker
---
Today I Feel...


---

Bangor, Maine
Current Conditions
---
New York, New York
Current Conditions
---
My Favorite Food Blogs:

Bento TV
Diary of the Food Whore
A Finger in Every Pie
Le hamburger et le croissant
My Little Kitchen
The Red Kitchen
Super Eggplant
Vegan Lunchbox

---
Other Sites I Frequent:
Delicious TV
Food Network
Food Porn Watch
Geocaching
Knitting Sunshine
Stories from the Gymrat
WABI TV5
The Way Life Is
---
---
---
RSS Feed
(This is new to me, but I think it will work!)
---
---
All content on "Culinary Epiphanies," including all text, photographs, images and any other original works (unless otherwise noted), is copyrighted © 2004 - 2009 by Kelli Hanson, with all rights reserved. Please contact me for permission to copy, publish, broadcast, distribute or display the work.
---
---
Contact Me
Thursday, October 21, 2004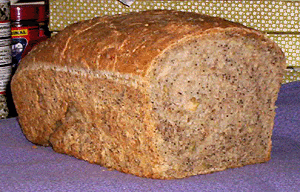 Of course! It's my favorite thing to make! =)
This recipe is form Tony Lacalamita's
"The All-New Ultimate Bread Machine Cookbook."
I've probably mentioned it before. I like it a lot. Enough said.
Chewy Country Bread with Seeds

Regular loaf = 1 1/2 lbs, Large loaf = 2 lbs.
regular loaf large loaf

water 1-1/4 cups 1-1/2 cups
olive oil 4 tsp 2 tbsp
honey 1 tbsp 4 tsp
salt 1-1/2 tsp 2 tsp
lightly toasted sesame seeds 1/4 cup 1/3 cup
poppy seeds 2 tbsp 3 tbsp
raw pumpkin seeds 1/4 cup 1/3 cup
rye flour 1/4 cup 1/3 cup
whole-wheat flour 1/4 cup 1/3 cup
bread flour 2-1/2 cups 3-1/3 cups
dry yeast 2-1/4 tsp 2-1/4 tsp

1. All ingredients must be at room temperature. Liquid ingredients should be approximately 80 degrees F. Add ingredients in the order specified in your bread machine owner's manual.

2. Select Basic or French cycle and normal or medium crust.

3. Remove baked loaf from pan at the end of the baking cycle and cool on a wire rack at least one hour before slicing.

I know, this bread is a lot "whiter" than I usually make. But it's so damn good! I made a "regular" sized loaf today. I used 3/4 cup WW flour and 2 cups bread flour, just to make myself feel slightly better about using so much white flour.

While Kevin calls almost all the bread I bake "chewy and seedy" (on account of most of it is, in fact, chewy and seedy!), this is the official "Chewy Seedy Bread" of the Kelli-Kevin household. Forgive us, Tony, for renaming this loaf!
Posted at 10/21/2004 6:24:25 pm by
KelliMelli
Permalink
Wednesday, October 20, 2004
Yesterday I mentioned my mom's potato soup recipe. I should clarify that the word "recipe" is used
very
loosely. I'm sure that everyone's mother has a version of this, and neither Mom nor I ever makes it quite the same way twice... but here's how I made it today: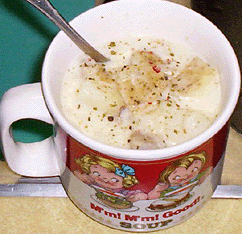 Chop one medium- to large- sized onion. In a large saucepan or soup pot, saute onion in a little butter, until it is translucent and slightly softened. While the onion cooks, chop two large potatoes. I don't even peel them. Add potatoes to onion, and pour in enough milk to cover. Salt to taste -- moderately to liberally. I find it needs more salt than I usually use in my cooking. Simmer until potatoes are tender, or to the texture you like. I let mine go until they are still chunky, but start to break down slightly, thickening the broth. My mom likes them a bit more firm. Add pepper to taste, and serve!

When I made this for my parents last week, I caramelized the onions before adding the potatoes. I seasoned it with Jane's Crazy Mixed-Up Salt, Mixed-Up Pepper, and some ground dried sage. Yummy. But this is the "recipe" in its simplest form. There's absolutely nothing wrong with it this way! Of course, ingredients can be scaled to make as much or as little as you like. And you can go crazy with seasonings. Next time, I think I'll throw in a can of Niblets. And more onion.
Posted at 10/20/2004 4:10:46 pm by
KelliMelli
Permalink
Tuesday, October 19, 2004
I know I'm not alone here... but what a
crazy
month this has been so far! My poor, neglected blog... first I was gone for almost two weeks, then I was without my vehicle last week, and therefore unable to shop much... for three weeks, I've either been away, extremely busy, or extremely lazy! Needless to say, there hasn't been a lot of cooking going on in that time. I do, however, have a couple of projects up my sleeve for the week: first, my mother has resurrected her potato soup recipe from my childhood. I've eaten it several times at her house this month, and I bought provisions today to make my own. It's painfully simple, but soooooo good and comforting. Second, my cousin Emily is home for a couple weeks, in between various and assorted Worldly Adventures. She's leaving soon to go to grad school in South Africa(!), so her mother (my aunt Anne I refer to occasionally) is having Thanksgiving/Christmas dinner this Saturday, since Em will miss the real things. Emily has declared that it's
just
a dinner party, but I'm still thinking of it as Thanksgiving. It's my favorite holiday -- I'll use any excuse to have
two
in one year! =) I'm usually the designated bread baker for such family events, so I need to start thinking about what I should make this week!
And speaking of sleeves, here's a funny thing I noticed this morning: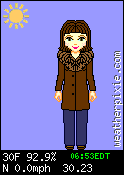 If any of you use
weatherpixie.com
, you know that there are only a few "models" to choose from. This one is the only one with my coloring, though her hair is a lot shorter (and a bit darker) than mine. I like her, despite these facts. =) Anyway, the above is what she was "wearing" on this chilly morning. And here's the coat
I
wore on this chilly morning: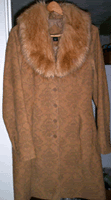 Completely pointless, I know, but I thought it was cute that the Pixie I chose has my coat! And yes, you can be assured that the crazy veg-head's coat is trimmed with
fake
fur!
Oh! I almost forgot! It's that time again -- my Annual Reading of the Laura Ingalls Wilder
"Little House" Series
has begun! If you read this blog regularly, you know how into Laura's books I am, and that I also have
"The Little House Cookbook."
Hmmm... could there be some cooking happening along with the reading...?
On that note, thanks for your patience with my neglected blog. I
will
get back into the cooking groove this week,
and
back into the posting groove! Now I must start poring over my bread books... =)
Posted at 10/19/2004 4:36:34 pm by
KelliMelli
Permalink
Friday, October 15, 2004
Sign Spotted in Wolfeboro's Health Food Store...
"In the beginning, everything was organic."
Posted at 10/15/2004 7:24:16 pm by
KelliMelli
Permalink
Wednesday, October 13, 2004
October Crisp Follow-Up (and other musings)
I have to admit something about
yesterday's recipe
: remember when I said I went crazy, used less oil than was called for, and it turned out great anyway...? Well, it really did, but the topping doesn't hold together
quite
as well as it does with
all
the oil called for. It doesn't bother me a bit -- it tastes just the same! But since
Linda
thought she might try making this for houseguests, I thought a warning was only fair. =) I'm really trying to watch what I eat now, and to make a conscious effort at reducing fat and calories. Crumbly topping is a very small sacrifice, as far as I'm concerned, for cutting a considerable amount of fat from the recipe. So... use as much oil as you see fit, and enjoy!
---
I re-read several parts of
"Diet for a New World"
after I had eaten my fill of crisp last night. I mentioned yesterday that I think John Robbins is a bit of an extremist, and I still stand by that. He cites hundreds of studies, articles, books, etc. for stats on world hunger, farming, nutrition, and
so
many other topics. I have a theory that anyone can find the stats he needs to prove his point if he looks hard enough. And people will believe what they want to believe, and I, being a crazy tree-hugging Birkenstock-wearing hippie-chick vegetarian, choose to believe most of what I read in "Diet." Crazy Atkins people would probably burn copies of this book, because it preaches the exact opposite of what they "believe."
That being said, I like a lot of what John Robbins stands for, and I find his book to be inspiring. I am at a place where I need to be making some changes in my life -- first and foremost, to get happy and healthy. I've had a pretty tough summer, and I need to turn things around. I
need
to be in a better mood on a regular basis. I
need
to shed a few pounds (I know, me and millions of other Americans). I
need
to eat as well as I was eating a couple of years ago. I
need
to get back into Yoga and hiking. I
want
to bake all my own bread and sprout my own seeds and cut refined sugar out of my life and take the time to think about each bite of food I put into my mouth and enjoy the little things as well as the big things. "Diet" makes me
want
to make all these things happen. I bought my copy of the book several years ago, during one of my vegan phases. Obviously, that phase passed. I think I've reached a happy medium -- my diet now consists of as much organic food as possible --
especially
eggs and dairy. That's my compromise for putting those products back onto my menu. I feel pretty comfortable with this lifestyle. I'm fairly sure I'll never go back to veganism -- I'm happy with lacto-ovo vegetarianism -- but this really is a great book to have on hand. It's so Earthy and crunchy and... well, so
me
!
Posted at 10/13/2004 4:54:52 pm by
KelliMelli
Permalink