---
About Me
---
My Other Blog
---
An Amazingly Accurate Representation of ME!
Created at...
Portrait Illustration Maker
---
Today I Feel...


---

Bangor, Maine
Current Conditions
---
New York, New York
Current Conditions
---
My Favorite Food Blogs:

Bento TV
Diary of the Food Whore
A Finger in Every Pie
Le hamburger et le croissant
My Little Kitchen
The Red Kitchen
Super Eggplant
Vegan Lunchbox

---
Other Sites I Frequent:
Delicious TV
Food Network
Food Porn Watch
Geocaching
Knitting Sunshine
Stories from the Gymrat
WABI TV5
The Way Life Is
---
---
---
RSS Feed
(This is new to me, but I think it will work!)
---
---
All content on "Culinary Epiphanies," including all text, photographs, images and any other original works (unless otherwise noted), is copyrighted © 2004 - 2009 by Kelli Hanson, with all rights reserved. Please contact me for permission to copy, publish, broadcast, distribute or display the work.
---
---
Contact Me
Wednesday, September 22, 2004
Bill Cosby Must Be Ecstatic
There are a few food blogs I read regularly, and a few I check in with once or twice a week. One of the blogs I check on the less frequently side is "
Wrapped in Dough
." It's not that I like it any less than my "regular" blogs... I just never think to bookmark it, so I usually run across it on
Food Porn Watch
and remember to check in. Boy, was I glad I did yesterday.
On Sunday, Astrid (I have so totally loved that name since reading "White Oleander!") posted about "
beanie popsicles
." An attention-grabbing title, no? It certainly got mine! She's spending a few months in China, teaching English, and discovered these treats "in the wilting Jiujiang humidity the other day." Check out the entry. She almost made me wish we had bean popsicles in this country...
almost
. But what really jumped out at me from this entry was the passing mention of Jell-O Pudding Pops. Now, I'm not afraid to admit that I have lamented about their disappearance from grocery store shelves for years. In fact, Kevin and I often daydream about their return. I'm pretty sure we had one such conversation just last week!
Imagine my surprise when I clicked on
this link
in Astrid's post...
They're baa-ack! When did that happen?!? And how did I not know?!? Someone's not properly utilizing his advertising budget!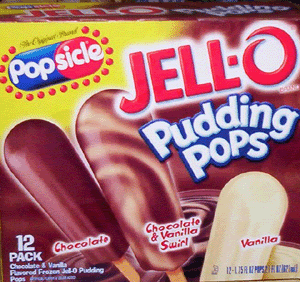 Now we do the Dance of Joy (bonus points to anyone who can tell me where that came from!).
I clicked on the "where to buy it" button to see if they are available in my area, since I hadn't noticed them at my favorite grocery store (probably because I don't exactly spend a lot of time in the "frozen novelties" aisle...). They are not, in fact, stocked at my store. They are, however, carried by the competitor. The evil competitor. The store I go to about three times a year, because they carry one or two things I can't get at
my
store, but I always have such a hideous experience at
that
store that I live without those items for long periods of time until I forget how much I hate the place, go back, and have another hideous experience. Today was no exception. For whatever reason, the
skeeziest
people in greater Bangor shop there, and the employees, I think, all have negative IQs. Pardon my superiority complex, but I'm sure you'd be equally horrified if you went to said store. It just transcends description. I think that
The Food Whore
(I
highly
recommend her blog, by the way -- clever writing fueled by a crazy catering schedule and a dry, sarcastic sense of humor) would have a lifetime supply of diary entries if she shopped at this store! But I braved said store today for the love of Kevin and Jell-O Pudding Pops. He doesn't know they're back, and will be home tomorrow & Friday, so I wanted to surprise him. What an exciting life we lead...! =)
I got them home and just
had
to open them
almost
immediately (I did make myself eat lunch first, at least). Now, not to complain any more than necessary, but when you look at the pictures on the box, don't they look exactly as they did in the 80s and 90s? Especially the vanilla one! That sort of flat, rounded-top, old-fashioned Creamsicle and Fudgsicle shape...? And should there be an "e" between the "g" and the "s" in Fudgsicle? Fudgesicle? They both look right. They both look wrong. I've never cared much for them, so I've never really thought about the proper spelling of their name. Anyway... I have to admit I was slightly disappointed when I pulled out a considerably smaller, eerily phallic Pudding Pop.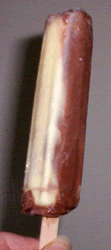 Popsicle took over the brand, but changed the shape to match their other products! Knowing what I know now, and looking at the picture, I can recognize that the shape is different... but can't you see how I could have been fooled? So much for nostalgia. I wondered if they would have the same texture... smooth, cold, slightly soft, and creamy, with a
very thin
icy shell. You can make all the pudding pops you want at home, but you'll never attain the texture of the original Jell-O Pudding Pop. I've tried. They just freeze too hard and too icy.
The pops have the same texture as the original. All is forgiven.
Posted at 9/22/2004 8:02:23 pm by
KelliMelli
Permalink
Tuesday, September 21, 2004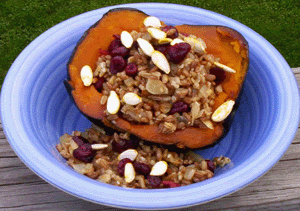 This dish was inspired by
this recipe
at
epicurious.com
, but it really turned into something entirely my own, based on my tastes and supplies!
Pilaf-Stuffed Squash

Ingredients:
2 buttercup squash (or should that be
squashes
?)
olive oil
1 packet
Kashi
Seven Whole Grains and Sesame Pilaf (which isn't truly pilaf -- it has no added herbs, spices, or other seasonings)
olive oil
1 medium onion, chopped
1 tsp ground dried sage
2 tbsp lemon juice
1/4 cup toasted sliced almonds
1/4 cup dried cranberries
salt & pepper to taste
Preheat oven to 375.
Cut squash in half ("vertically," from stem end to blossom end). Scoop out seeds and pulp (save the seeds -- they can be roasted* just like pumpkin seeds!). Place squash halves cut side down in an oiled baking dish. Bake 35 - 40 minutes, until squash flesh is tender.
While the squash bakes, prepare one packet of Kashi pilaf as directed on the package. Set aside.
Saute onion in small amount of olive oil until translucent. Add sage, saute 1 minute more. Add pilaf, lemon juice, salt, pepper, almonds, and cranberries. Stir until all ingredients are heated through.
Place squash halves on plates. Fill cavities with pilaf. Garnish with cranberries and squash seeds (if you chose to roast them) or almonds (if you didn't roast the seeds!).

One squash half with pilaf makes a very satisfying vegetarian entree!

* To roast seeds: separate them from the pulp, removing as much of the "string" as you can. Rinse well, then pat dry. Toss with just enough oil to coat, and salt to taste. Roast at 300 for about 45 minutes, until toasty and crunchy. Before today, I hadn't roasted pumpkin/squash seeds in years. Yum!!!

I cooked just one squash, so I have plenty of pilaf left over for lunches this week. =)

If you looked at the original recipe, you saw that it calls for acorn squash. I prefer buttercup -- I like the flavor better, and I think it looks a lot more like an acorn than acorn squash does! I actually (unintentionally) overcooked mine a bit, so the shells were pretty soft -- not quite suitable for serving on plates. But I really like the roasty, caramelly flavor it got from being cooked those extra few minutes.

As much as I like rice, I thought this dish would be a lot more fun with the Kashi grain mix. It has a variety of nice flavors and textures from the different grains, and is even healthier, with lots of fiber, protein, iron, and cholesterol-lowering oats. I'm really glad I tried it. I may never eat plain brown rice again!

Also, I left the squash flesh intact in its shell, rather than mixing it with the pilaf. I think it's fun to scoop up a forkful (or spoonful) of the pilaf, scraping up a bit of squash along with it.

I'm sure this pilaf would make a great stuffing for summer squash, too... or bell peppers... or even turkey for you crazy meat-eaters! And, of course, there's no reason not to serve it as a side dish on its own.

I love it when a plan comes together.
Posted at 9/21/2004 4:42:00 pm by
KelliMelli
Permalink
Sunday, September 19, 2004
IMBB?VIII: Lift Your Spirits High!
As I mentioned yesterday, I have the better part of a bottle of Irish Cream in my refrigerator, left over from
Kevin's birthday cake
. What a great excuse to use it --
IMBB?VIII: "Lift Your Spirits High!"
This month's edition is hosted by Donna of
"There's a Chef in my Kitchen."
Entries must "use wine or spirits as a central component of your recipe!"I set out on a search...
Most of the results that turned up were recipes to actually make my own Irish Cream. That sounded like fun, but I didn't really need any -- I just needed ways to use it! I finally ran across
cooksrecipes.com
, which is pretty much just what it sounds like -- "a premier internet cooking and recipe site featuring 15,000 recipes and growing." I'm not thrilled with the site's overabundance of on-page ads and popups, but it does have more recipes featuring Irish Cream than any other site I've found. It has, of course, lots of recipes for cakes, but that's not what I wanted. I've already done that! Finally, this recipe jumped out at me...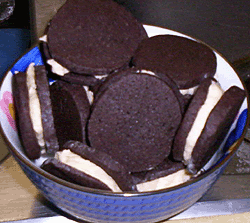 Irish Cream Sandwiches


Cookie Ingredients:
3/4 cup LAND O LAKES® Butter, softened*
3/4 cup granulated sugar
1 large egg
1 teaspoon vanilla extract
1 1/2 cups all-purpose flour
3/4 cup unsweetened cocoa
1/4 teaspoon salt

Filling Ingredients:

1 1/2 cups powdered sugar
1/4 cup LAND O LAKES® Butter, softened*
2 to 3 teaspoons Irish cream liqueur**


Topping Ingredients:

Powdered sugar, if desired



1. Combine 3/4 cup butter and sugar in large bowl. Beat at medium speed, scraping bowl often, until creamy. Add egg and vanilla; continue beating until well mixed. Reduce speed to low; add flour, cocoa and salt. Beat until well mixed.

2. Divide dough in half; shape each half on lightly floured surface into 8-inch long square log with 1 1/2-inch sides. Wrap in plastic food wrap; refrigerate until firm (2 hours or overnight).

3. Heat oven to 325°F. Cut logs into 1/4-inch square slices with sharp, serrated knife. Place squares 1 inch apart onto ungreased cookie sheets. Bake for 6 to 8 minutes or until set.

4. Combine powdered sugar and 1/4 cup butter in small bowl. Beat at low speed, adding enough liqueur for desired spreading consistency. Spread about 1 teaspoon filling on cookie, top with second cookie. Press together gently. Sprinkle with powdered sugar, if desired.


Makes 32 sandwich cookies.

*Substitute LAND O LAKES® Soft Baking Butter with Canola Oil right from the refrigerator.

**Substitute 2 to 3 teaspoons very strong brewed coffee.

TIP: Make sure not to slice the cookie dough too thick or the cookies will not be crisp.

Make Ahead: Prepare cookies as directed; cool completely. Freeze in airtight container up to 1 month. When ready to use, thaw cookies completely. Prepare filling and assemble cookie sandwiches as directed.


Boy, do I need a purple stand mixer! I nearly burned out the motor on my mom's hand mixer (sorry, mom -- I'll bring you some cookies tomorrow... and don't worry -- the mixer really is fine). This is one stiff cookie dough.

I pretty much followed this recipe as it's written, except I used Irish Cream in place of the vanilla in the cookies, and used more than is called for in the filling... 2 or 3 teaspoons? Please! I used almost 4 tablespoons. =) I actually needed that much "for desired spreading consistency," and I have to say it didn't hurt my feelings any. And, I made the cookies round instead of square, because I felt like it.
These cookies are just as good as you think they might be. The chocolate wafers are deep, dark, crispy, and crunchy. And I'm glad I used extra Irish Cream in the filling. I don't think it would have been a present enough flavor if I had only used a couple teaspoons. I just made the cookies yesterday, but I've already come to think of them as "grown-up Oreos."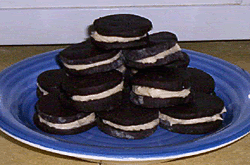 No milk necessary! Well, I don't really like milk all that much. But I'm sure they'd go great with a cup of coffee or hot chocolate, or even steamed soy milk (yum!), preferably spiked with some more Irish Cream. I honestly don't drink much, but I could really get into this stuff...

Licking the filling bowl was the best part. =)

---
Bonus recipe! I found this one on the same site, and couldn't resist throwing a batch together this morning...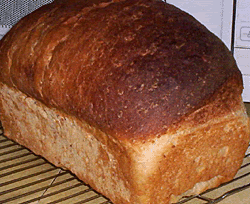 Irish Cream Liqueur Bread
Recipe for bread machine.


1 1/4 cups water

1/3 cup honey
2 tablespoons Irish cream liqueur
1 cup quick or old fashioned oats
3 cups white bread flour
1 teaspoon salt

2 1/2 teaspoons dry yeast

1. Place ingredients in the bread machine pan in the order suggested by the manufacturer.

2. Select Sweet bread cycle and Light Crust; start machine.

Makes one 1 1/2 pound loaf.



I, of course, mixed the dough in my machine and baked the bread in the oven, at 350 for about 40 minutes. Oh, and I took out 2 tablespoons of water, and used a total of 4 tablespoons of Irish Cream.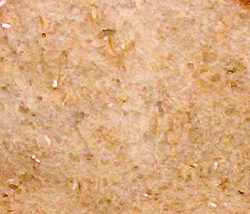 This bread is ultra-comforting. It's soft and chewy, with just a hint of not-quite-crunch from the oats. The Irish Cream is more of an essence than a strong flavoring, but it's definitely there. It's a sweet bread that makes a mean pb&j! I can't wait to try it toasted (and topped with a little european-style butter, of course!) tomorrow morning!

And yes, these pictures are all my work -- they were not stolen from cooksrecipes.com!
Posted at 9/19/2004 4:13:55 pm by
KelliMelli
Permalink
You may have noticed that I've been all about the bread and cookies this weekend (more on that later today for those of you who haven't noticed!). Have you been watching
Food TV
? They're all about the bread and cookies this weekend! Hmmm...
Among other baking shows, I watched the "World Baking Cup -- Best Bread in the World" special last night. It was fabulous, fantastic, fascinating, and probably a few other words beginning with "f" (except
that
one!). It's on again this afternoon. I must have a blank VHS somewhere...
How much of a geek am I? =)
Posted at 9/19/2004 10:37:15 am by
KelliMelli
Permalink
Saturday, September 18, 2004
9:00 this morning... a moment of panic... my dough didn't seem to have changed much during its 15 hours in the fridge...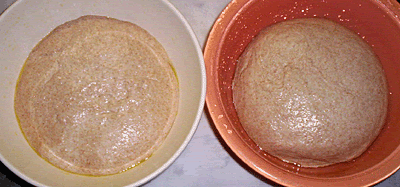 I thought about it a bit, and realized that the fridge is where sourdough goes when you want it to be in a dormant state. So why did it need to live there for 15 hours, when it seemed to me like it should have been somewhere warmer, rising at that point in its life? Oh, well. I got over it, dumped out the dough, and formed two oval loaves (rather than the making two baguettes from each batch like the recipe suggested):

They may not have looked perfect, but they looked a lot like the artisan bread we buy at the grocery store, which was what I was envisioning. Since it's so cool here today, I turned on the oven for just a few seconds, and turned on the interior light. Then I put the loaves in to rise for about 6 hours...

Having flashbacks to a certain Sir Mix-a-Lot video, circa 1989?

Go ahead. Laugh. I know you want to. I did when I took the picture. The dough obviously
did
double in size, but it also spread out a lot, and rose more "out" than "up."
I preheated the oven to 450, misted the risen dough, put it in the oven, and spritzed it (again) and the oven (taking care not to spray the light bulb in the oven -- a lesson I learned the hard way the first time I attempted sourdough bread!). In there it stayed for just about half an hour, until it looked like this:
Yes, I cut a piece off before I remembered to take a picture. =) I ended up with something much more like ciabatta than a freeform, oval loaf. It's about 1 1/2" thick... maybe closer to 2" right in the center. The crust is a little darker than I usually like, but it's crispy and crackly, just like real artisan bread! The texture, fortunately, is far from that of a doorstop. Yay!!!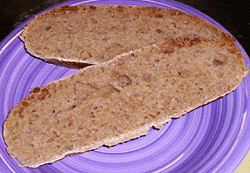 It's holey and chewy and tangy. I declare it to be a success.

The dough definitely needs more flour than the recipe calls for. I think that will help it retain its shape better once loaves are formed. Next time, I will watch it more closely as it mixes and not be afraid to add more flour than I did this time. I'm sure it depends a lot on how thick or thin the sponge is, too... it's all so complicated! But I am happy. I certianly learned a few things to watch for next time, and I ended up with some pretty damn good bread!
Posted at 9/18/2004 7:45:13 pm by
KelliMelli
Permalink