---
About Me
---
My Other Blog
---
An Amazingly Accurate Representation of ME!
Created at...
Portrait Illustration Maker
---
Today I Feel...


---

Bangor, Maine
Current Conditions
---
New York, New York
Current Conditions
---
My Favorite Food Blogs:

Bento TV
Diary of the Food Whore
A Finger in Every Pie
Le hamburger et le croissant
My Little Kitchen
The Red Kitchen
Super Eggplant
Vegan Lunchbox

---
Other Sites I Frequent:
Delicious TV
Food Network
Food Porn Watch
Geocaching
Knitting Sunshine
Stories from the Gymrat
WABI TV5
The Way Life Is
---
---
---
RSS Feed
(This is new to me, but I think it will work!)
---
---
All content on "Culinary Epiphanies," including all text, photographs, images and any other original works (unless otherwise noted), is copyrighted © 2004 - 2009 by Kelli Hanson, with all rights reserved. Please contact me for permission to copy, publish, broadcast, distribute or display the work.
---
---
Contact Me
Sunday, September 19, 2004
IMBB?VIII: Lift Your Spirits High!
As I mentioned yesterday, I have the better part of a bottle of Irish Cream in my refrigerator, left over from
Kevin's birthday cake
. What a great excuse to use it --
IMBB?VIII: "Lift Your Spirits High!"
This month's edition is hosted by Donna of
"There's a Chef in my Kitchen."
Entries must "use wine or spirits as a central component of your recipe!"I set out on a search...
Most of the results that turned up were recipes to actually make my own Irish Cream. That sounded like fun, but I didn't really need any -- I just needed ways to use it! I finally ran across
cooksrecipes.com
, which is pretty much just what it sounds like -- "a premier internet cooking and recipe site featuring 15,000 recipes and growing." I'm not thrilled with the site's overabundance of on-page ads and popups, but it does have more recipes featuring Irish Cream than any other site I've found. It has, of course, lots of recipes for cakes, but that's not what I wanted. I've already done that! Finally, this recipe jumped out at me...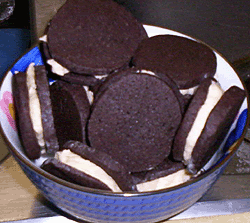 Irish Cream Sandwiches


Cookie Ingredients:
3/4 cup LAND O LAKES® Butter, softened*
3/4 cup granulated sugar
1 large egg
1 teaspoon vanilla extract
1 1/2 cups all-purpose flour
3/4 cup unsweetened cocoa
1/4 teaspoon salt

Filling Ingredients:

1 1/2 cups powdered sugar
1/4 cup LAND O LAKES® Butter, softened*
2 to 3 teaspoons Irish cream liqueur**


Topping Ingredients:

Powdered sugar, if desired



1. Combine 3/4 cup butter and sugar in large bowl. Beat at medium speed, scraping bowl often, until creamy. Add egg and vanilla; continue beating until well mixed. Reduce speed to low; add flour, cocoa and salt. Beat until well mixed.

2. Divide dough in half; shape each half on lightly floured surface into 8-inch long square log with 1 1/2-inch sides. Wrap in plastic food wrap; refrigerate until firm (2 hours or overnight).

3. Heat oven to 325°F. Cut logs into 1/4-inch square slices with sharp, serrated knife. Place squares 1 inch apart onto ungreased cookie sheets. Bake for 6 to 8 minutes or until set.

4. Combine powdered sugar and 1/4 cup butter in small bowl. Beat at low speed, adding enough liqueur for desired spreading consistency. Spread about 1 teaspoon filling on cookie, top with second cookie. Press together gently. Sprinkle with powdered sugar, if desired.


Makes 32 sandwich cookies.

*Substitute LAND O LAKES® Soft Baking Butter with Canola Oil right from the refrigerator.

**Substitute 2 to 3 teaspoons very strong brewed coffee.

TIP: Make sure not to slice the cookie dough too thick or the cookies will not be crisp.

Make Ahead: Prepare cookies as directed; cool completely. Freeze in airtight container up to 1 month. When ready to use, thaw cookies completely. Prepare filling and assemble cookie sandwiches as directed.


Boy, do I need a purple stand mixer! I nearly burned out the motor on my mom's hand mixer (sorry, mom -- I'll bring you some cookies tomorrow... and don't worry -- the mixer really is fine). This is one stiff cookie dough.

I pretty much followed this recipe as it's written, except I used Irish Cream in place of the vanilla in the cookies, and used more than is called for in the filling... 2 or 3 teaspoons? Please! I used almost 4 tablespoons. =) I actually needed that much "for desired spreading consistency," and I have to say it didn't hurt my feelings any. And, I made the cookies round instead of square, because I felt like it.
These cookies are just as good as you think they might be. The chocolate wafers are deep, dark, crispy, and crunchy. And I'm glad I used extra Irish Cream in the filling. I don't think it would have been a present enough flavor if I had only used a couple teaspoons. I just made the cookies yesterday, but I've already come to think of them as "grown-up Oreos."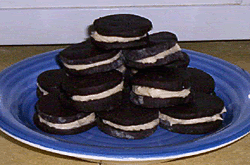 No milk necessary! Well, I don't really like milk all that much. But I'm sure they'd go great with a cup of coffee or hot chocolate, or even steamed soy milk (yum!), preferably spiked with some more Irish Cream. I honestly don't drink much, but I could really get into this stuff...

Licking the filling bowl was the best part. =)

---
Bonus recipe! I found this one on the same site, and couldn't resist throwing a batch together this morning...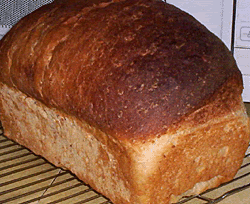 Irish Cream Liqueur Bread
Recipe for bread machine.


1 1/4 cups water

1/3 cup honey
2 tablespoons Irish cream liqueur
1 cup quick or old fashioned oats
3 cups white bread flour
1 teaspoon salt

2 1/2 teaspoons dry yeast

1. Place ingredients in the bread machine pan in the order suggested by the manufacturer.

2. Select Sweet bread cycle and Light Crust; start machine.

Makes one 1 1/2 pound loaf.



I, of course, mixed the dough in my machine and baked the bread in the oven, at 350 for about 40 minutes. Oh, and I took out 2 tablespoons of water, and used a total of 4 tablespoons of Irish Cream.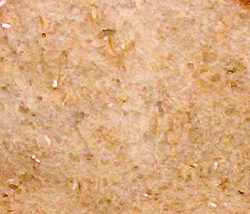 This bread is ultra-comforting. It's soft and chewy, with just a hint of not-quite-crunch from the oats. The Irish Cream is more of an essence than a strong flavoring, but it's definitely there. It's a sweet bread that makes a mean pb&j! I can't wait to try it toasted (and topped with a little european-style butter, of course!) tomorrow morning!

And yes, these pictures are all my work -- they were not stolen from cooksrecipes.com!
Posted at 9/19/2004 4:13:55 pm by
KelliMelli
Permalink
You may have noticed that I've been all about the bread and cookies this weekend (more on that later today for those of you who haven't noticed!). Have you been watching
Food TV
? They're all about the bread and cookies this weekend! Hmmm...
Among other baking shows, I watched the "World Baking Cup -- Best Bread in the World" special last night. It was fabulous, fantastic, fascinating, and probably a few other words beginning with "f" (except
that
one!). It's on again this afternoon. I must have a blank VHS somewhere...
How much of a geek am I? =)
Posted at 9/19/2004 10:37:15 am by
KelliMelli
Permalink
Saturday, September 18, 2004
9:00 this morning... a moment of panic... my dough didn't seem to have changed much during its 15 hours in the fridge...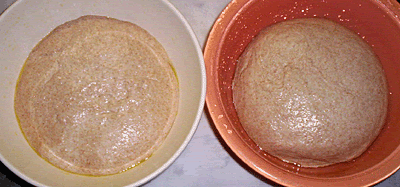 I thought about it a bit, and realized that the fridge is where sourdough goes when you want it to be in a dormant state. So why did it need to live there for 15 hours, when it seemed to me like it should have been somewhere warmer, rising at that point in its life? Oh, well. I got over it, dumped out the dough, and formed two oval loaves (rather than the making two baguettes from each batch like the recipe suggested):

They may not have looked perfect, but they looked a lot like the artisan bread we buy at the grocery store, which was what I was envisioning. Since it's so cool here today, I turned on the oven for just a few seconds, and turned on the interior light. Then I put the loaves in to rise for about 6 hours...

Having flashbacks to a certain Sir Mix-a-Lot video, circa 1989?

Go ahead. Laugh. I know you want to. I did when I took the picture. The dough obviously
did
double in size, but it also spread out a lot, and rose more "out" than "up."
I preheated the oven to 450, misted the risen dough, put it in the oven, and spritzed it (again) and the oven (taking care not to spray the light bulb in the oven -- a lesson I learned the hard way the first time I attempted sourdough bread!). In there it stayed for just about half an hour, until it looked like this:
Yes, I cut a piece off before I remembered to take a picture. =) I ended up with something much more like ciabatta than a freeform, oval loaf. It's about 1 1/2" thick... maybe closer to 2" right in the center. The crust is a little darker than I usually like, but it's crispy and crackly, just like real artisan bread! The texture, fortunately, is far from that of a doorstop. Yay!!!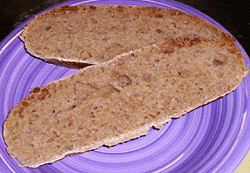 It's holey and chewy and tangy. I declare it to be a success.

The dough definitely needs more flour than the recipe calls for. I think that will help it retain its shape better once loaves are formed. Next time, I will watch it more closely as it mixes and not be afraid to add more flour than I did this time. I'm sure it depends a lot on how thick or thin the sponge is, too... it's all so complicated! But I am happy. I certianly learned a few things to watch for next time, and I ended up with some pretty damn good bread!
Posted at 9/18/2004 7:45:13 pm by
KelliMelli
Permalink
Did you happen to notice this on the left side of the screen?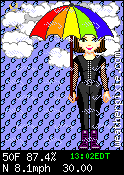 It's COLD here! And raining! And
COLD!!!
Which, of course, makes me want to (all together now)
bake something
! Plus, running the oven all afternoon might make the apartment a bit warmer. I
refuse
to turn on the heat before October! I have several things planned for the day, which will make for some good posting over the next few days.
My first project will be the dish I had planned to make
last Sunday
, until I got invited to go sailing. I still don't regret my choice that day! =)
Second will be my entry for
IMBB?VIII
, "Lift Your Spirits High," hosted by Donna of
There's a Chef in My Kitchen
. Here's a hint -- I have a lot of Irish Cream leftover from
Kev's birthday cake
...
Last, and certainly not least, the sourdough will finally be baked tonight! I'm nervous -- I've found mention of it on two other food blogs this week. People are watching! And I must extend my thanks to Barrett of
Too Many Chefs
for naming my sourdough project as one of his favorite "posts of the week."
And now... let the baking begin!
Posted at 9/18/2004 2:40:50 pm by
KelliMelli
Permalink
Friday, September 17, 2004
Bubble, bubble, toil and trouble...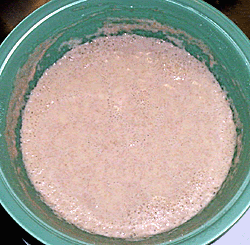 Mmm... frothy! I know, it didn't look too frothy in that picture, but trust me -- it was. So, on to steps 2, 3, and half of 4 from the
Berkeley sourdough recipe
. Sort of. I, of course, used my bread machine instead of a food processor or mixing by hand. I put 3/4 cup of the "sponge," 3/4 cup water, 1 1/2 tsp salt, 1 1/2 cups AP flour, and 1 cup whole-wheat flour into the machine and let it mix and knead for about 15 minutes. The dough came out a bit sticky, and a little softer than I think it should be...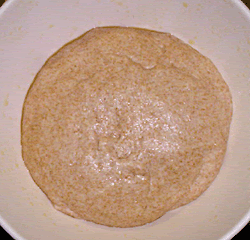 That's one relaxed lump of dough!



See how flat it looks? It spread out in the bowl as soon as I dumped it out of the machine. I had a lot more of the "sponge" than I needed for one batch, so I decided to throw together some more dough. I put a couple extra tablespoons of flour in it, and it came out a little more solid: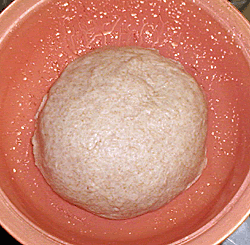 That's more like it!

This batch held its shape a bit better. Both dough balls are in oiled bowls, covered with plastic wrap, in the fridge for the night. I don't think the softer, stickier batch will be too much different once all is said and done, but it will be interesting to see just what happens. They get to hang out in the fridge until about 9 tomorrow (Saturday) morning, then they'll sit out at room temp for a couple of hours. Then it'll be time to shape them, let them rise 6-7 more hours, and bake them! This is getting
exciting
...! =)
Posted at 9/17/2004 8:54:07 pm by
KelliMelli
Permalink