---
About Me
---
My Other Blog
---
An Amazingly Accurate Representation of ME!
Created at...
Portrait Illustration Maker
---
Today I Feel...


---

Bangor, Maine
Current Conditions
---
New York, New York
Current Conditions
---
My Favorite Food Blogs:

Bento TV
Diary of the Food Whore
A Finger in Every Pie
Le hamburger et le croissant
My Little Kitchen
The Red Kitchen
Super Eggplant
Vegan Lunchbox

---
Other Sites I Frequent:
Delicious TV
Food Network
Food Porn Watch
Geocaching
Knitting Sunshine
Stories from the Gymrat
WABI TV5
The Way Life Is
---
---
---
RSS Feed
(This is new to me, but I think it will work!)
---
---
All content on "Culinary Epiphanies," including all text, photographs, images and any other original works (unless otherwise noted), is copyrighted © 2004 - 2009 by Kelli Hanson, with all rights reserved. Please contact me for permission to copy, publish, broadcast, distribute or display the work.
---
---
Contact Me
Tuesday, September 14, 2004
At 4:00 this morning, according to step 7, I peeled off the "crust" and found this damp, sticky, sour-smelling substance...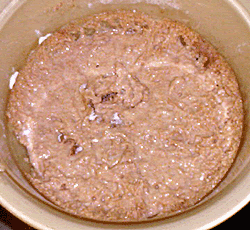 As directed, I added a cup of flour. I found that I had to add quite a bit of water, too, to make it all come together into this: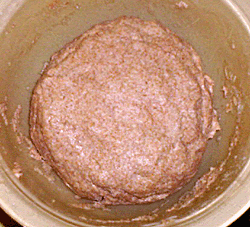 At which point I put it back in its spot near the chimney "for another 8 - 12 hours." It's now about 14 hours later, and here's how it looks:


Does this "appear fully risen" to you? it doesn't quite seem to be so to me, and when I "make a small indententation" with my finger, it springs back a bit. I'm going to leave it in its warm, happy spot overnight, and then probably move it to the fridge in the morning until I can get to the "used in virtually any sourdough recipe" stage. Kev's home for a couple of days, so the starter will just have to wait until he goes back to Boston before it gets too much more attention. But maybe I'll actually get to bake bread by this weekend!!!
Posted at 9/14/2004 6:35:49 pm by
KelliMelli
Permalink
Monday, September 13, 2004
Sourdough: Day 5, and Being Busy
Today was a bit hectic... we debuted a brand new noon newscast at the station. Yes, I am directing it. In addition to the 5am show. Now I
start
and
end
my work days directing newscasts! It went pretty well, technically. The content still needs a lot of work, but that's not up to me -- I'm a techie, remember? Of course, there was a post mortem meeting to discuss what the station GM liked and didn't like, so, of course, I got out of work late. Then (yay) it was laundry time. Now it's 5:30, and I don't really feel like cooking! Supper was a piece of pita bread (made Saturday) with hummus (storebought) and cucumber slices. Exciting, no? It was good, anyway.
I don't have much to report on the sourdough front, either. My starter looks just like it did
at this time yesterday
. I will try to get up a few minutes early tomorrow and proceed with
steps 7 & 8
. Then, by the time I get home tomorrow, I should be able to start the actual
bread making
, which is
another
few days worth of working and waiting! This better be worth it in the end. =)
Posted at 9/13/2004 7:43:16 pm by
KelliMelli
Permalink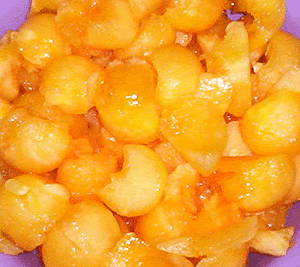 I never mastered the art of making perfect melon balls, but isnít this gorgeous (heh hehÖ I said melon balls!)?
Please excuse my Beavis & Butthead moment. Iím better now.
This is the orange-fleshed watermelon I got at the Farmerís Market a week ago. I just cracked into it. Itís organic, not seedless (the seeds are white, and I picked out the biggest ones), and a beautiful color. I had such high hopes for it. My hopes were dashed. Itís seriously lacking in flavor. It tastes just like the red seedless hybridized-to-death melons I refuse to buy at the grocery store! Why is it so hard to find a good watermelon these days?
Posted at 9/13/2004 7:43:03 pm by
KelliMelli
Permalink
Sunday, September 12, 2004
I had a baking/cooking project planned for today, but last night, I got a last-minute invitation to spend the day here...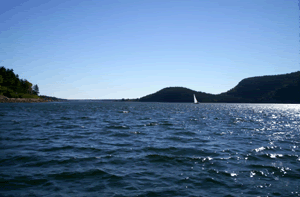 On this boat: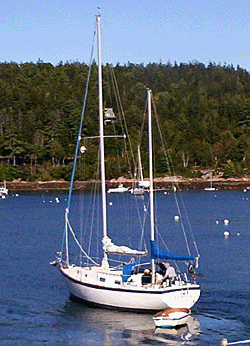 I think I chose wisely.
Posted at 9/12/2004 6:18:31 pm by
KelliMelli
Permalink
7:00 Sunday morning -- I peeled off the crust and found this: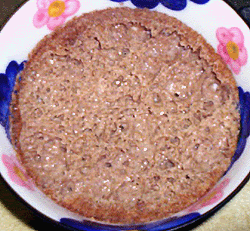 I mixed it with flour and water to make "a stiff (but sticky!) dough," and had to move it to a bigger bowl. This ball is about the size of a navel orange: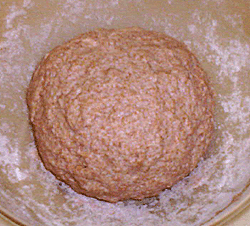 I was supposed to add twice as much flour as the original started with, but now that I think about it, I may have only added 1/3 cup instead of 2/3. It was early. What can I say? But anyway. At 5:30 Sunday evening, here's what how much it changed:

No, I remember now -- I added 2/3 cup of flour, and 1/3 cup water, and then had to add a bit more flour. I may be able to set my sponge tomorrow morning!
Posted at 9/12/2004 6:15:55 pm by
KelliMelli
Permalink