...he asked Royal,


"What would you like best to eat"


They talked about spareribs, and turkey with dressing, and baked beans, and other good things. But Almanzo said that what he liked most in the world was fried apples'n'onions.


When, at last, they went in to dinner, there on the table was a big dish of them! Mother knew what he liked best, and she had cooked it for him.


~ Farmer Boy
by Laura Ingalls Wilder

Last year, during my annual reading of Laura's "Little House" series, I became obsessed with the food that was cooked in those times... I was especially obsessed with the idea of "fried apples'n'onions." I love apples. I love onions. How could I not love them fried together? I got so obsessed that I bought "The Little House Cookbook" by Barbara M. Walker, hoping the recipe would be there. It is. And what a great book! If you're into Laura's stories, and into food, like I am, it's really some fascinating reading. But I'll write more about the book in general another time.

It's apple season here. I bought some early Paula Reds at the grocery store the other day, and realized that it was time to finally try this recipe.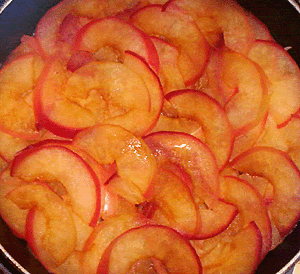 Fried Apples'N'Onions


This is a "country" dish, seldom mentioned in cookbooks but recalled by many oldtimers. Some feel the sugar essential; others call it "a sin." If you share Almanzo's enthusiasm you might also like to try fried apples'n'onions with fried potatoes for breakfast sometime.

For six servings you will need:

bacon or salt pork, 1/2 pound, sliced
yellow onions, 6 (2 pounds)
tart apples, 6 (2 pounds)
brown sugar, 2 tablespoons

skillet, 12-inch, with cover; apple corer

Fry bacon or salt pork slices in the skillet until brown and crisp. Set them aside on a warm serving platter.

While the meat is frying, peel the onions, leaving the stems to hold for slicing. To prevent eyes from watering hold a slice of bread in your teeth while you slice the onions as thin as possible. Discard stems.

Core the apples and cut them crosswise in circles about 1/4 inch thick. Apple skins help the slices keep their shape and add color to the dish, so don't peel unless skins are tough or scarred.

Drain all but 1 tablespoon of fat from the skillet, then add the onion slices. Cook them over medium-high heat for about 3 minutes. Cover with apple slices in an even layer. Sprinkle brown sugar over all, cover the skillet, and cook until tender, a few minutes more. Stir only to prevent scorching. Remove to the warm plate with bacon or salt pork slices.


Now, since I'm a vegetarian and all, I don't have a lot of bacon or salt pork hanging around the house. I just melted a little butter in the pan before I put in the onions. And I opted to use sugar on the apples, since these early ones are pretty tart.


I just have one thing to say about this dish...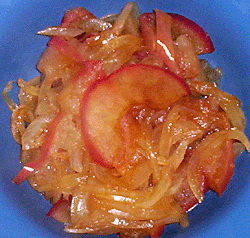 YUM!

Posted at 9/11/2004 9:43:47 pm by
KelliMelli
Permalink