---
About Me
---
My Other Blog
---
An Amazingly Accurate Representation of ME!
Created at...
Portrait Illustration Maker
---
Today I Feel...


---

Bangor, Maine
Current Conditions
---
New York, New York
Current Conditions
---
My Favorite Food Blogs:

Bento TV
Diary of the Food Whore
A Finger in Every Pie
Le hamburger et le croissant
My Little Kitchen
The Red Kitchen
Super Eggplant
Vegan Lunchbox

---
Other Sites I Frequent:
Delicious TV
Food Network
Food Porn Watch
Geocaching
Knitting Sunshine
Stories from the Gymrat
WABI TV5
The Way Life Is
---
---
---
RSS Feed
(This is new to me, but I think it will work!)
---
---
All content on "Culinary Epiphanies," including all text, photographs, images and any other original works (unless otherwise noted), is copyrighted © 2004 - 2009 by Kelli Hanson, with all rights reserved. Please contact me for permission to copy, publish, broadcast, distribute or display the work.
---
---
Contact Me
Monday, August 30, 2004
So much to write about, and so little of it food related! Here goes... =)

Last weekend was the National Folk Festival's third and final year in Bangor. I attended all three days of all three years, and had such a blast every year! How could three days of world music and ethnic foods not be fun?!? I'll try not to bore you with too many details, but I thought I'd share some highlights. Here are a few pictures of my three favorite acts of this year:



Kotchegna, an Ivorian Coast dance and percussion ensemble: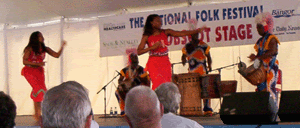 Vibrant costumes, energetic dancers, intense percussion, and...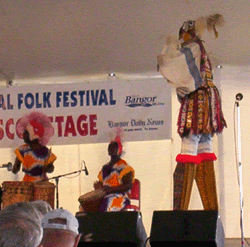 A stilt walker!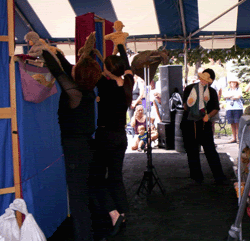 This picture doesn't even begin to show the beauty of this art form.

And... a new band to add to my list of favorites:


I can't say enough good about Solas. They are an Irish-American "Trad" (short for "traditional") band. All of the members are Irish, or at the very least have lived there for an extended period of time. They do play mostly traditional Irish music, but they add their own twists and turns.

The lead singer has one of those perfect, clear, sweet, Irish voices. The fiddle player is a NYC native, and is extremely talented and completely adorable. The guitar player seems to be the strong, silent type who gets lost in his music. The pushbutton accordian player not only plays that accordian like there's no tomorrow, but also plays several other instruments and writes music. And the guy way over to the left, Seamus Egan...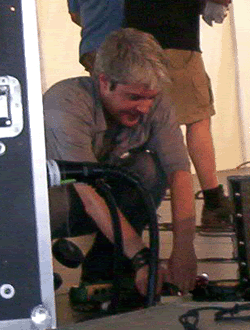 ... is The Man, as far as I'm concerned. Among other things, he founded the band, plays (and is an All-Ireland champion on) many instruments, writes a lot of the band's material, arranges covers, and scores movies. I went to see this band solely on the info that among the movies he's scored is "The Brothers McMullen." Now, we all know that the big hit from that soundtrack, and the song that really made Sarah McLachlan a star in this country, is "I Will Remember You." Sarah is, to me,
God.
I love her music, I love her voice. But back to Solas. If I have my story straight, it turns out that several years before "Brothers" came out, Seamus had written a song called "Weep Not for the Memories." He and Sarah re-wrote it for the movie, and it became "I Will Remember You."
I went to Solas' performance Saturday night expecting to be bored by the same old, same old reels and jigs. Boy, was I surprised. They reeled and jigged, but not like I'd ever heard before! They are so energetic... so together... so tight... and so obviously having fun. They did a cover of Bob Dylan's "Dignity" that made me cry. I got so hooked, I went back to see them Sunday afternoon! And lucky me, I have friends in high places: my TV station did
a lot
of coverage of the festival, including 4-1/2 hours of live broadcasting on Friday (all of which I directed!). We just so happened to have gotten a lot of promotional material from a lot of the groups that performed there. We just so happened to have gotten a Solas CD for promotional purposes. And now I just so happen to have that CD in my posession now, to have and to hold until death do us part! How good is life?
I'll stop gushing over Solas now and talk a little bit about the food at the festival. There were lots of ethnic foods, of course, like Korean, Philippino, and Greek, along with lots of Maine foods. Unfortunately, it was pretty hot and humid all weekend, so I wasn't very hungry most of the time I was there. But here's what I did eat...
My favorite Maine food at the festival is the
"Pie Cone."
I'll let you read about them on your own, but let's suffice it to say that I had two over the course of the weekend -- both raspberry cheesecake. Heaven.
Saturday's supper was from another Maine vendor -- an eggplant and hummus wrap from a restaurant in Millinocket. Eggplant grilled to perfection, topped with romaine lettuce, a cucumber/tomato/pepper/onion salsa, hummus, and tapenade, all wrapped up in a soft, fluffy, doughy Greek-style pita bread. It was so good, I had another one for lunch on Sunday. They're served at "room" temperature, so they aren't too hot or too heavy for the hot, heavy weather.
Saturday's dessert, "Ooey Gooey Chocolate Peanut Butter Cake," came from another restaurant in Millinocket. Two layers of very dense, almost brownie-like chocolate cake with a thick layer of straight-up peanut butter in the middle, and a thin layer of ganache on top. I had to share it with my cousin, it was so rich. And so good.
I also had a pretty good cup of lemonade. I really wanted limeade, but they ran out of limes before Saturday was even over!
I didn't really think about it over the weekend, but all I ate at the festival was Maine food! I guess I had my fill of ethnic foods the first two years. I had tried pretty much everything from around the world that interested me, so this year was dedicated to trying food from around my state. I wasn't disappointed with anything. In fact, I may be so lucky as to have access to the eggplant wrap recipe soon... I'll find out tomorrow when I see our morning weather guy. Sound intriguing? It's a convoluted story, but it makes sense to me. =)
The National Folk Festival moves to Virginia (Richmond, I think) for the next three years, which is a little sad -- but
only
a little. The festival was so successful here, and broke so many attendance records for such a small town, that the city is planning its own festival, called "The American Folk Festival," to replace it -- for as many years as they can keep it going! I really hope it works out, and I really hope that the city, without much help from national organizations, can match the quality, diversity, and
FUN
of the National Folk Festival!
Posted at 8/30/2004 4:35:13 pm by
KelliMelli
Permalink
Thursday, August 26, 2004
My aunt and uncle, Tom and Anne, live about 1 1/4 miles down the road from me. Their house was my second home growing up, and their two daughters are more like sisters to me than just cousins. Tom and Anne travel a lot. Since I know their house better than anyone else, when they go away, I house-/pool-/cat-sit for them. This is especially fun in the summer because they have a really nice pool. Like it's not payment enough that I get free reign of their pool whenever I want, Anne usually gets me a really cool "thank you" gift from wherever they have been. A couple of weeks ago, she got me an extra pair of hands for the kitchen: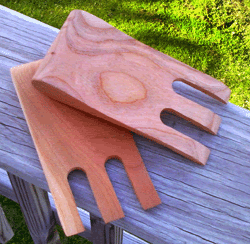 Salad hands!



She got them at "Mung Bean," a store in Boothbay Harbor (Maine). According to the Boothbay Register, "The craft gallery carries only American-made crafts with its focus on the works of Maine and New England craftspeople." So these are locally made, and I think they're even signed by the artist! The picture isn't very clear because extreme closeups always come out blurry with my digital camera, but if you look closely, you can see the scribbles I've circled on the edges of the hands...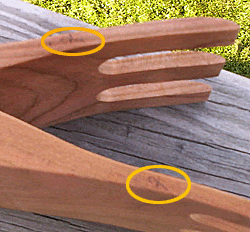 Now
I
want to go to Mung Bean and find a nice wooden salad bowl to match.
Posted at 8/26/2004 5:57:42 pm by
KelliMelli
Permalink
Wednesday, August 25, 2004
I know -- that's an extremely overused, cheesy, tacky cliche, but I'm coming down with another stupid cold*, and am feeling rather uninspired as a result.
My two latest "things" are old cookbooks and
bread.
There's a great used bookstore in downtown Bangor called Lippincott's, where Kevin and I have been spending a fair amount of time lately. They have a great cookbook section. Now that I'm on a bread kick, I dug out a book I bought there in May. Shockingly enough, it was near the bottom of a pile of other cookbooks.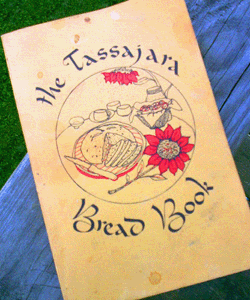 It was originally published in October of 1970 (hey -- that book and I are the same age!), and this is an edition from that year. I have seen an updated version around, but this is much more fun. It's a very hippy-dippy, crunchy-granola kind of book... right up my alley! I was reading it as I lay in the hammock at my parents' house this afternoon, and the following passage jumped out at me: "Certain items will assist you in making bread, though few of them are strictly necessary.
Heavy, brown, ceramic bread bowls
are available. These hold and distribute heat well. Pre-heating the bowl allows the baby bread dough to feel at home and warmly held." What a happy thought. I want a heavy, brown, ceramic bread bowl.
---
* Yes, I just
had
a stupid cold in June. Before that, I hadn't had one in more than two years!
Now, don't you think that if you can't go five minutes without sneezing and blowing your nose, and you can't talk, and you're at the height of contagiousness, that
maybe
you should stay home for a day or two, for
your
health
and
that of your co-workers?!? ESPECIALLY when you and a certain co-worker (me!) tag-team on a
switcher,
and trade off the headset/mic? See all those buttons and levers on the switcher? They hold a lot of germs! Those disinfectant wipes aren't all they're cracked up to be.
Posted at 8/25/2004 4:38:28 pm by
KelliMelli
Permalink
Tuesday, August 24, 2004
I've been reading the "Anne of Green Gables" series this summer... it's almost as good as the "Little House" series... almost. Every time Anne eats some of Marilla's plum jam, I drool. All I can think about is the plum thicket on my grandfather's land, where my mother and I pick grape-sized, red-skinned, yellow-fleshed plums in the fall, if the deer don't get them first. Plum jam is not something that's common around here. But thinking about those tiny, sweet-tart plums, how can plum jam possibly be bad? I embarked on a mission. I came up short at the grocery store, but I found some organic plum jam at the Belfast Co-Op. Yay!! It's called St. Dalfour Deluxe Fancy Plum Spread. The label reads: "An Old French Recipe. A delicious fruit spread made in France by an old recipe. Fancy Plums sweetened only with grape juice concentrate. By gently cooking in the tradition of the French countryside, the natural flavor of the fruit is conserved." Translated from French, non? =) It's a lovely shade of golden amber -- much like the color of honey. I decided this was the closest I was going to get to what Anne ate on P.E.I. a hundred years ago.

Now... what's the best way to eat this jam...? Homemade bread, of course. But what kind? Oh, my head. It has to be just right. Old-fashioned. What kind of bread would Anne have had? A search for that info turned up nothing. I though about making something from my "Little House Cookbook," with the logic that Anne's and Laura's time periods were not too far apart, but then decided that would be like Crossing the Streams or something. Then I thought I'd make Anadama bread, an old-fashioned New England bread. New England is close to PEI! I finally decided to stop thinking so much and just make what I feel like eating. Something chewy and seedy. Something hearty, but not too dense or heavy. I bought some 7 grain and seed mix and some whole rye flour at NLC (Natural Living Center -- Bangor's health food store) the other day. They were calling to me. I got out one of my favorite bread books, "The All-New Ultimate Bread Machine Book," by Tony Lacalamita. I highly recommend it. Don't let the name fool you, though -- as is my usual method with bread baking, I use his recipes to make dough in my machine, but I always bake it in the oven, as a loaf or rolls or whatever suits me at any given time.


After two days of flipping through the book and marking recipes, I decided on "Mulitgrain Bread." How original of me. It's just what I want right now, though. Here's the recipe:

1 1/2-Pound Loaf 2-Pound Loaf


water 1 cup 1 1/4 cups
egg, extra-large 1 1
vegetable oil 2 tbsp 3 tbsp
salt 1 1/2 tsp 2 tsp
honey 3 tbsp 4 tbsp
flax seeds 1/4 cup 1/3 cup
coarse cornmeal 2 tbsp 3 tbsp
rolled oats 2 tbsp 3 tbsp
bread flour 2 1/4 cups 3 cups
whole-wheat flour 3/4 cup 1 cup
rye flour 2 tbsp 3 tbsp
dry yeast 2 1/4 tsp 2 1/4 tsp

1. All ingredients should be at room temperature. Liquid ingredients should be approximately 80 degrees F. Add ingredients in the order specified in your bread machine's owner's manual.

2. Select basic cycle and normal or medium crust.

3. Remove baked loaf from pan at the end of the baking cycle, and cool on a wire rack at least one hour before slicing.

I, of course, couldn't just let the recipe be. Instead of flax seeds, I used my 7 grain and seed mix. The ingredients aren't listed on the bag, but I positively ID'd cracked corn, flax seeds, cracked wheat, and millet seeds. The rest is left to my imagination. I just hope I don't crack a tooth on something in the bread! I substituted it one-to-one for the flax seeds.

I've been dying to try fresh yeast in something, instead of dried granules. This seemed like a good place to start. I read in another bread book the other day that fresh yeast isn't recommended for bread that will be baked in the machine, but it's fine if you're just mixing dough in it. That's me! What fascinating stuff fresh yeast is. It smells so good, and had a really odd texture. It's more solid than I expected it to be... almost like Fimo or Silly Putty, but it flattens, then breaks up, instead of stretching. As I crumbled it into the machine, I had a moment of panic -- would those lentil-sized chunks of yeast actually break down, mix thoroughly into the dough, and make it rise?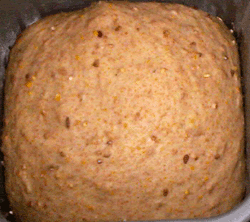 They did. After the first rise, I dumped the dough out of the pan, deflated it a bit, and let it rest for a few minutes. The resting is something I've read about many times, but never tried until very recently. I was always too impatient. But what a difference it makes! I could never figure out why bread dough was so hard to manipulate into a loaf shape. Now I know... just ten little minutes make it so much easier to work with. After resting, I rolled it out into a rectangle, rolled it up jelly-roll-style, and put in into a pan. I made the 1 1/2-pound loaf, which normally would be baked in a 9x5 loaf pan. I, however, have these really funky pans I got at The Good Table in Belfast.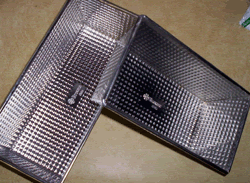 The smaller ones are the traditional 8x4, but the larger ones are 10x4 1/2. It all seems to work out in the end. I love these pans. They're aluminum, so the crust doesn't get too dark, and they're dimpled all over, so as to release the cooked bread more readily than a smooth pan.

Another rise, for about an hour. I find that the best place to proof dough in my apartment is in my oven with just the light on -- no turning the oven on! It's warm and draft-free, just like all the recipes want for rising dough.

Into a 350 oven for about 45 minutes, and...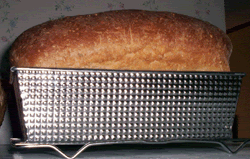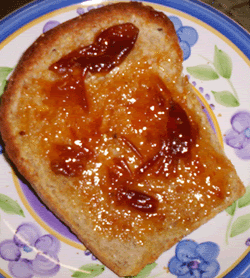 I can only hope Anne enjoyed her bread and plum jam as much as I enjoyed mine.
Posted at 8/24/2004 7:26:30 pm by
KelliMelli
Permalink
Monday, August 23, 2004
The Beginning of a Baking Bonanza?
I may have mentioned this before, but I love to bake. I love to cook, but more specifically, I really love to bake. There's something about scooping flour into a measuring cup, leveling it off, and sifting it into a bowl that is just so satisfying. I know my Rubbermaid measuring spoon set so well I can choose the correct spoon without even looking at the markings. I love mixing eggs, milk, and vanilla together with my stainless steel whisk. The precision that baking requires may drive some people crazy, but it totally relaxes me. I think I may have some anal retentive, obsessive-compulsive issues. =)
I was really,
really,
really
in the mood to bake some bread today... but by the time I got home from work, hung out with Kev for a bit, went on my appointed afternoon rounds, and got home again, it was almost 5:00... and that's just too late for me to start a three-hour baking project. I resigned myself to making something from the quick bread department, and found a recipe in my "collected recipes binder" for "Ginger-Pear Muffins." How convenient... I had a pear and some fresh ginger left over from my
IMBB? VII project!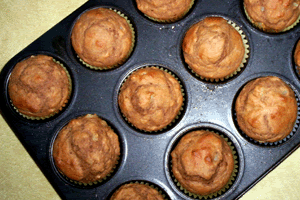 Pear-Ginger Muffins
Makes 12 Muffins
1 cup whole wheat flour
1 cup unbleached all-purpose flour
3 tablespoons sugar
1 tablespoon baking powder
1/2 teaspoon salt
1/2 teaspoon ground nutmeg
1/2 teaspoon ground cinnamon
1/4 cup liquid egg substitute or 2 egg whites
1 cup nonfat milk
1/4 cup unsweetened applesauce
1 teaspoon vanilla extract
1/4 cup finely diced dried pears (or diced, peeled fresh pear)
1 tablespoon finely chopped candied ginger (or 1 teaspoon grated fresh)
Topping:
1 tablespoon sugar
1/2 teaspoon ground cinnamon
Preheat oven to 375 degrees F. Spray a standard muffin pan lightly with nonstick spray.
In a medium bowl, combine whole wheat flour, all purpose flour, sugar, baking powder, salt, nutmeg, and cinnamon. Stir to blend well.
In a small bowl, combine egg substitute, milk, applesauce, and vanilla. Whisk until smooth. Add to dr ingredients. Stir with a fork just until batter is blended. Do not overmix. Gently stir in the pears and ginger. Spoon batter into prepared muffin cups, filling each cup almost full.
To make topping, stir together sugar and cinnamon. Sprinkle 1/4 teaspoon of the mixture over each muffin. Bake until the muffins spring back when touched slightly and the tops are golden, about 15 minutes. Cool in the pan 5 minutes, then remove and serve warm.
Per Muffin:
Calories 101
Protein 3.7 g
Carbohydrates 21.5 g
Cholesterol 0.4 mg
Total Fat 0.3 g
Sodium 114.1 mg

Source: Everyday Cooking with Dr. Dean Ornish

Like I didn't already have a mountain of dirty dishes from the weekend... there go a few more!

As usual, I made just a few changes... I used fresh pear and fresh ginger, and left the pear unpeeled. Their skins are so thin, you barely notice them, and I really don't see the need to strip away all that nutrition and fiber. I used one whole (organic!) egg instead of egg sub or two whites. I'm not afraid of one whole egg spread out between that many muffins! I used 1% (organic!) mik, because that's what I have. I really don't care much for skim milk, and as little as I actually use cow's milk, I don't worry about the few extra calories and fat grams in the low-fat stuff. I only squeaked 11 muffins out of the recipe. Because my muffin pan is so dark, I baked them at 350. And in my haste, I completely missed that whole "topping" part of the recipe.

They came out really good, though not quite as sweet as I like my muffins to be... probably due to my missing out on the cinnamon/sugar topping. I'm quite sure that would have made a difference! Also, I will use more fruit and more ginger next time I make them -- and there will be a next time. I love healthy, whole-grain, low-fat, low calorie muffins. They make a great grab-and-go breakfast, which is absolutely essential when you work the hours I work! I can throw them into my little lunch cooler, and eat them as I get ready for the show.

>sigh< Maybe tomorrow will be a kinder, gentler day, and I will get to bake my bread. And do dishes while the dough rises.
Posted at 8/23/2004 6:54:53 pm by
KelliMelli
Permalink