---
About Me
---
My Other Blog
---
An Amazingly Accurate Representation of ME!
Created at...
Portrait Illustration Maker
---
Today I Feel...


---

Bangor, Maine
Current Conditions
---
New York, New York
Current Conditions
---
My Favorite Food Blogs:

Bento TV
Diary of the Food Whore
A Finger in Every Pie
Le hamburger et le croissant
My Little Kitchen
The Red Kitchen
Super Eggplant
Vegan Lunchbox

---
Other Sites I Frequent:
Delicious TV
Food Network
Food Porn Watch
Geocaching
Knitting Sunshine
Stories from the Gymrat
WABI TV5
The Way Life Is
---
---
---
RSS Feed
(This is new to me, but I think it will work!)
---
---
All content on "Culinary Epiphanies," including all text, photographs, images and any other original works (unless otherwise noted), is copyrighted © 2004 - 2009 by Kelli Hanson, with all rights reserved. Please contact me for permission to copy, publish, broadcast, distribute or display the work.
---
---
Contact Me
Monday, August 23, 2004
The Beginning of a Baking Bonanza?
I may have mentioned this before, but I love to bake. I love to cook, but more specifically, I really love to bake. There's something about scooping flour into a measuring cup, leveling it off, and sifting it into a bowl that is just so satisfying. I know my Rubbermaid measuring spoon set so well I can choose the correct spoon without even looking at the markings. I love mixing eggs, milk, and vanilla together with my stainless steel whisk. The precision that baking requires may drive some people crazy, but it totally relaxes me. I think I may have some anal retentive, obsessive-compulsive issues. =)
I was really,
really,
really
in the mood to bake some bread today... but by the time I got home from work, hung out with Kev for a bit, went on my appointed afternoon rounds, and got home again, it was almost 5:00... and that's just too late for me to start a three-hour baking project. I resigned myself to making something from the quick bread department, and found a recipe in my "collected recipes binder" for "Ginger-Pear Muffins." How convenient... I had a pear and some fresh ginger left over from my
IMBB? VII project!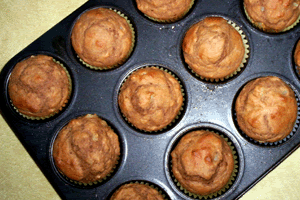 Pear-Ginger Muffins
Makes 12 Muffins
1 cup whole wheat flour
1 cup unbleached all-purpose flour
3 tablespoons sugar
1 tablespoon baking powder
1/2 teaspoon salt
1/2 teaspoon ground nutmeg
1/2 teaspoon ground cinnamon
1/4 cup liquid egg substitute or 2 egg whites
1 cup nonfat milk
1/4 cup unsweetened applesauce
1 teaspoon vanilla extract
1/4 cup finely diced dried pears (or diced, peeled fresh pear)
1 tablespoon finely chopped candied ginger (or 1 teaspoon grated fresh)
Topping:
1 tablespoon sugar
1/2 teaspoon ground cinnamon
Preheat oven to 375 degrees F. Spray a standard muffin pan lightly with nonstick spray.
In a medium bowl, combine whole wheat flour, all purpose flour, sugar, baking powder, salt, nutmeg, and cinnamon. Stir to blend well.
In a small bowl, combine egg substitute, milk, applesauce, and vanilla. Whisk until smooth. Add to dr ingredients. Stir with a fork just until batter is blended. Do not overmix. Gently stir in the pears and ginger. Spoon batter into prepared muffin cups, filling each cup almost full.
To make topping, stir together sugar and cinnamon. Sprinkle 1/4 teaspoon of the mixture over each muffin. Bake until the muffins spring back when touched slightly and the tops are golden, about 15 minutes. Cool in the pan 5 minutes, then remove and serve warm.
Per Muffin:
Calories 101
Protein 3.7 g
Carbohydrates 21.5 g
Cholesterol 0.4 mg
Total Fat 0.3 g
Sodium 114.1 mg

Source: Everyday Cooking with Dr. Dean Ornish

Like I didn't already have a mountain of dirty dishes from the weekend... there go a few more!

As usual, I made just a few changes... I used fresh pear and fresh ginger, and left the pear unpeeled. Their skins are so thin, you barely notice them, and I really don't see the need to strip away all that nutrition and fiber. I used one whole (organic!) egg instead of egg sub or two whites. I'm not afraid of one whole egg spread out between that many muffins! I used 1% (organic!) mik, because that's what I have. I really don't care much for skim milk, and as little as I actually use cow's milk, I don't worry about the few extra calories and fat grams in the low-fat stuff. I only squeaked 11 muffins out of the recipe. Because my muffin pan is so dark, I baked them at 350. And in my haste, I completely missed that whole "topping" part of the recipe.

They came out really good, though not quite as sweet as I like my muffins to be... probably due to my missing out on the cinnamon/sugar topping. I'm quite sure that would have made a difference! Also, I will use more fruit and more ginger next time I make them -- and there will be a next time. I love healthy, whole-grain, low-fat, low calorie muffins. They make a great grab-and-go breakfast, which is absolutely essential when you work the hours I work! I can throw them into my little lunch cooler, and eat them as I get ready for the show.

>sigh< Maybe tomorrow will be a kinder, gentler day, and I will get to bake my bread. And do dishes while the dough rises.
Posted at 8/23/2004 6:54:53 pm by
KelliMelli
Permalink
Sunday, August 22, 2004
We had a rhubarb patch in our backyard when I was a kid. I used to make what we called "rhubarb cobbler:" rhubarb cooked with sugar and water into a chunky sauce, poured into a baking dish, topped with biscuit dough, and baked. I loved making it, and we all loved eating it. It occurred to me last week, while thinking about what to make for this month's "Is My Blog Burning? You're Just the Cutest Little Dumpling" that this was a dumpling dish. I decided to stick to what I know about dumplings and make something similar. I browsed Food TV's site and found this recipe, from Emeril Lagasse:
Apple, Pear, and Raspberry Stew with Oatmeal Dumplings

2 tablespoons butter
4 apples, peeled, cored and sliced
4 pears, peeled, cored and sliced
3 cinnamon sticks
1/4 cup chopped candied ginger
3 cloves
3 star anise
1 orange, zested
1/4 cup Calvados
Salt
Pepper

For the Oatmeal Dumplings:
1 1/2 cups quick cooking oats
1/2 cup flour
1/4 cup brown sugar
1 teaspoon cinnamon
Salt
1 1/2 tablespoons honey
2 tablespoons Calvados
1 tablespoon melted butter
1 cup dried apricots, rehydrated in 1/2 cup water

Preheat oven to 350 degrees F.

In a hot saute pan, add the butter and melt. Add apples, pears, cinnamon, candied ginger, cloves, star anise and orange zest and cook until tender, about 6 minutes. Remove from heat and add Calvados. Cook another 1 minute. Season with salt and pepper and pour into a gratin dish.

For the Oatmeal Dumplings: In a large bowl, combine the oats, flour, brown sugar, cinnamon and salt and mix well. Drain the apricots and place in the bowl of a food processor. Add the honey, Calvados and butter and puree. Mix the apricot puree into the dry ingredients. Spoon dollops of oatmeal mixture on top of the apple and pear mixture. Place in the oven and bake until the oatmeal mounds are golden brown, about 8 to 10 minutes.
Now, far be it from me to criticize Emeril or Food TV, but did you notice anything odd about this recipe? Like, oh, I don't know... the lack of
raspberries?
In "apple, pear, and
raspberry
stew?" I found it to be a bit strange. I didn't ever see this recipe actually cooked on TV, so maybe it made more sense there. But I doubt it. More on that later.
As you probably have realized by now, I rarely follow a recipe exactly. This one was no exception. First of all, I had no idea what "Calvados" was, nor could I find it at the store. I knew it had to be some sort of liqueur or wine, but that was it. I looked it up this morning. It's apple brandy. I used orange juice in its place, squeezed from the orange I had to zest for the fruit stew.

I usually have candied ginger in the house, but somehow managed to run out. I didn't like the looks of what I found at the grocery store, so I used fresh ginger, finely grated. I don't know what the candied ginger would have tasted like in this, but the fresh was awesome. It infused the fruit and added a spicy perfume to the stew.


The pears I had were pretty big, so I only used three of them. And I left them unpeeled. I did peel the apples, though.


I cooked the fruit a lot longer than the recipe called for. I like my fruit in pies, cobblers, etc. to be good and soft. I let this go for about 20 minutes, I think. You would not believe how good it smelled while it cooked.


I added about a cup of raspberries to the apples and pears just before I poured the fruit into the baking dish, thus making "apple, pear, and raspberry stew!" They added a lot of flavor, and beautiful color.
I also baked the assembled cobbler longer than recommended -- about 20 minutes. It seemed like it needed it.


My "dumplings" turned into more of a crust...


Here's what I ended up with: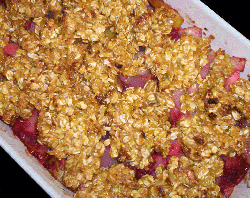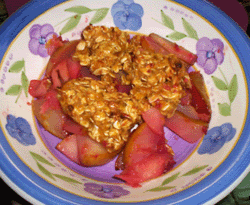 Dumplings or not, this is damn good stuff. The fruit is spicy and gingery... the topping is sticky and chewy and oaty... it's like nothing I've ever had before, but something I will definitely have again! It made a great brunch for us this morning. And can you imagine how good it will be for dessert, reheated and topped with vanilla ice cream? The only real disappointment is that the fruit didn't come out so "stewy." There's no liquid to speak of. Next time, I will add some water or more juice or something to the fruit.

So many variations are already running around in my mind. Fruits could be substituted, mixed, and matched. The fruit stew would be great on its own as a compote, an ice cream topping, shortcake filling... a more biscuit-like topping would be really good... I can't wait to play with this recipe more! Thanks, Emeril.

Posted at 8/22/2004 1:04:29 pm by
KelliMelli
Permalink
Saturday, August 21, 2004
AB is, of course, Alton Brown. I think that if you've read an entry or two from this blog, you know that I
love
him. Not
that
way! I love Jacques Torres
that
way! =) I just think AB is a pretty amazing guy. He's intelligent, creative, talented... let's face it -- the man is a genius. I admire him because he's into two of the things I am into: television production and food. I love his show because it's witty, well produced, and interesting. It is, as far as I'm concerned one of the best shows on TV -- in any category.
Last weekend I caught his "Flapjack Do It Again" show, which I had somehow managed to miss up until then. I was pretty excited when I saw the title because I
love
pancakes. Imagine how much
more
excited I got when I saw that he was going to make pancake mix! I was anxious to see his recipe and techniques. The show, of course, was excellent. I especially loved when he went shopping for dry measuring cups and picked out the exact set I have! However, I was a bit disappointed with his pancake mix recipe. It used only white flour. I am a bit more into whole grain and multi-grained products. I was reminded that I have a great recipe for multi-grain pancake mix right in my "library."
Good Grains Pancake Mix

from
Vegetarian Times Complete Cookbook
by the Editors of Vegetarian Times Magazine
1 cup rye flour
1/2 cup wheat germ
1 cup whole-wheat flour
1 1/2 cups unbleached white flour
1/2 cup cornmeal (I used half fine and half coarse)
1/3 cup sugar (Sucanat for me, of course!)
2 tbsp baking powder (I make my own out of Bakewell Cream and baking soda)
1 tsp baking soda
1 tbsp salt
Stir together all the ingredients. Divide into thirds (just under 2 cups each) ad seal each batch in a plastic bag. Store in your freezer.
So I took a few minutes this evening and threw a batch together: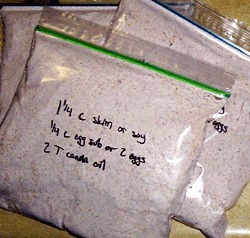 And speaking of genius, I write the recipe for the pancakes themselves right on the bags before I throw them into the freezer. That way I don't have to even think about getting a book off the shelf and opening it to the right page, because we all know how challenging that is! Here's the recipe, also from the VT Complete Cookbook:

Good Grains Pancakes
1 1/4 cups skim milk or soy milk
1/4 cup egg substitute or (2 eggs)
2 tbsp canola oil
1 batch Good Grains Pancake Mix

In a bowl, whisk together the milk or soy milk, egg substitute or eggs, and oil. Whisk in the pancake mix until the dry ingredients are just moist. The batter will be somewhat lumpy.

To cook the pancakes, pour 1/4 cup batter per pancake onto a hot nonstick griddle. Cook until bubbles form and the underside is lightly browned. Turn and ccok the other side until browned. Repeat with the remaining batter.

Variation: to make waffles, cook according to the manufacturer's directions for your waffle iron.

This is what "convenience food" should be -- most of the flour I used is organic, and I always use organic milk and eggs. It's cheap, it only took a few minutes of my time, and it's healthy. I've been buying Arrowhead Mills brand multi-grain mix lately, and it's really good, but it's not cheap. This recipe is just as good. The only change I make is that I don't use as much oil as it calls for -- I use a tablespoon, if that, and they come out just fine.

I am convinced that this would make a great gift -- put the pancake mix, some maple syrup, a nice spoon, and a recipe card with the instructions into a pretty basket or mixing bowl, and voila! I'd do that for Christmas presents for family members if I didn't already make chocolate truffles... which Kev's parents have sort of come to expect the past couple of years. =)

Posted at 8/21/2004 11:15:43 pm by
KelliMelli
Permalink
Thursday, August 19, 2004
Restaurant-Style Basmati Rice
I am a huge proponent of whole grains. I have
always
preferred whole wheat bread to white (and now, the more seeds and grains in my whole-wheat bread, the better!), I'd rather have a bowl of multi-grain hot cereal than corn flakes, and I just ate a bowl of 7-grain pilaf for supper. But sometimes a simple bowl of plain, steamed, unadulterated white rice is just a necessary thing. I find it to be a great comfort food. The white rice is one of my favorite parts of ordering Thai takeout!
My other white rice weakness comes with Indian food. I love the spices it is cooked with. Several years ago, I posted a plea on an AOL food message board asking if anyone could give me a recipe so I could make it at home. I received a response from "Nurse Bobbi," which I think would be a great porn star's name... but whatever "Nurse Bobbi" does for work, she helped me right out that day. Here's the recipe she posted:
2 tbsp vegetable oil
1 cup basmati rice
2 cups water
1 tbsp cumin seeds
1-2 cardamon pods (green, black, or both)
2 whole cloves
1 cinnamon stick
1 tsp salt
a pinch of saffron
Rinse rice until water runs clear. Soak rice in clean water for 10 minnutes.
Heat oil in a large, wide pot. Add spices, water, and rice. Bring to a boil. Reduce heat and simmer for 10 minutes. Remove rice from heat and let it sit, covered, for 10 minutes.
* Less water may be required -- 1-1/2 to 1 3/4 cups per cup of rice
It's a pretty simple recipe, and the results are just what I was looking for. I often use this recipe to serve with my
"Spicy Fu"
instead of the coconut rice the original recipe calls for. In fact, I often simplify this recipe even more by just cooking the rice with a similar mix of spices... I don't often bother with the presoak, the oil, or the boiling. I just simmer the rice, water, and spices until... it is done!
Posted at 8/19/2004 7:01:01 pm by
KelliMelli
Permalink
Wednesday, August 18, 2004
No, I am not Jewish... but "shalom" means peace, and that's what I'm all about. "Shalom" is also the name of an orchard/winery in Franklin, Maine, of which Kevin and I were made aware yesterday.
We braved the crowds of Bar Harbor (hoping they wouldn't be so bad... but they were) on one of the few nice days we've had this summer. As much of a tourist trap as Bar Harbor is, there are several shops that I love, including the health food store "The Alternative." Of course, I am a sucker for any health food store... but this is one of my favorites.
As we browsed the wine section, a display marked "Shalom Orchard" caught our eyes. There wasn't an awful lot of wine on this display, but one of those bottles was full of "Cranberry Cyser" honey wine. Honey wine! The first glass of honey wine I ever had was in NYC, on Valentine's Day this year, at a very cool organic restaurant called (originally enough)
The Organic Grill.
It was a blackberry honey wine, and it was love at first sip. I have never been much of a wine drinker, but that wine made me one. This is the first honey wine I've seen since then. We decided to give it a shot.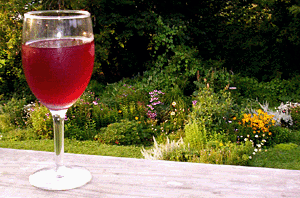 I like this picture because I love the way the late afternoon sun is hitting the wine, and I like the view -- that's one of our landlord's several gardens in the background. She works very hard on them, and as a result, this is the view we get from our deck.
But back to the wine. I am far from knowledgeable about wine, its terminologies, and what I should be looking for/smelling/tasting when I drink it. I just know whether I like what I'm drinking or not. This is a sweet, tart, sparkling wine, and I like it. A lot. It is now my second favorite wine
ever
-- after the blackberry honey wine I had in NYC. =) Yes, I am a bit of a lightweight -- I like sweet wines, no matter what I'm eating. I obviously don't know much about food/wine pairings yet, either.
The display touted Shalom Orchard's wines as being organic. The label on the bottle does not make said claim, so I am unsure of its organic status. It doesn't matter. It's worth drinking. If it is, in fact, organic, all the better.
Also in stock at Alternative that day was Shalom Orchard's apple honeywine. We had a hard time deciding between the two, but decided on the cranberry because we hadn't had cranberry wine before.

As we stood at the register to pay for the wine, Kevin and the cashier had a brief conversation about the wine, of which I missed half. But I did hear the woman (I think she may be an owner of the store) say that they are scheduled to get some blueberry honey wine and a sweet mead later this week. We commented on how we hadn't heard of this winery before (and we have, in recent months, made ourselves familiar with most of the wineries within a 100-mile radius of Bangor!). She said that the orchard just started selling its wine, and only at her store! So, if you're anywhere within daytripping distance of Bar Harbor, we suggest a stop at Alternative to check out Shalom Orchard's wines. We will definitely be going back soon to try the other varieties!
Posted at 8/18/2004 6:49:33 pm by
KelliMelli
Permalink