---
About Me
---
My Other Blog
---
An Amazingly Accurate Representation of ME!
Created at...
Portrait Illustration Maker
---
Today I Feel...


---

Bangor, Maine
Current Conditions
---
New York, New York
Current Conditions
---
My Favorite Food Blogs:

Bento TV
Diary of the Food Whore
A Finger in Every Pie
Le hamburger et le croissant
My Little Kitchen
The Red Kitchen
Super Eggplant
Vegan Lunchbox

---
Other Sites I Frequent:
Delicious TV
Food Network
Food Porn Watch
Geocaching
Knitting Sunshine
Stories from the Gymrat
WABI TV5
The Way Life Is
---
---
---
RSS Feed
(This is new to me, but I think it will work!)
---
---
All content on "Culinary Epiphanies," including all text, photographs, images and any other original works (unless otherwise noted), is copyrighted © 2004 - 2009 by Kelli Hanson, with all rights reserved. Please contact me for permission to copy, publish, broadcast, distribute or display the work.
---
---
Contact Me
Thursday, August 19, 2004
Restaurant-Style Basmati Rice
I am a huge proponent of whole grains. I have
always
preferred whole wheat bread to white (and now, the more seeds and grains in my whole-wheat bread, the better!), I'd rather have a bowl of multi-grain hot cereal than corn flakes, and I just ate a bowl of 7-grain pilaf for supper. But sometimes a simple bowl of plain, steamed, unadulterated white rice is just a necessary thing. I find it to be a great comfort food. The white rice is one of my favorite parts of ordering Thai takeout!
My other white rice weakness comes with Indian food. I love the spices it is cooked with. Several years ago, I posted a plea on an AOL food message board asking if anyone could give me a recipe so I could make it at home. I received a response from "Nurse Bobbi," which I think would be a great porn star's name... but whatever "Nurse Bobbi" does for work, she helped me right out that day. Here's the recipe she posted:
2 tbsp vegetable oil
1 cup basmati rice
2 cups water
1 tbsp cumin seeds
1-2 cardamon pods (green, black, or both)
2 whole cloves
1 cinnamon stick
1 tsp salt
a pinch of saffron
Rinse rice until water runs clear. Soak rice in clean water for 10 minnutes.
Heat oil in a large, wide pot. Add spices, water, and rice. Bring to a boil. Reduce heat and simmer for 10 minutes. Remove rice from heat and let it sit, covered, for 10 minutes.
* Less water may be required -- 1-1/2 to 1 3/4 cups per cup of rice
It's a pretty simple recipe, and the results are just what I was looking for. I often use this recipe to serve with my
"Spicy Fu"
instead of the coconut rice the original recipe calls for. In fact, I often simplify this recipe even more by just cooking the rice with a similar mix of spices... I don't often bother with the presoak, the oil, or the boiling. I just simmer the rice, water, and spices until... it is done!
Posted at 8/19/2004 7:01:01 pm by
KelliMelli
Permalink
Wednesday, August 18, 2004
No, I am not Jewish... but "shalom" means peace, and that's what I'm all about. "Shalom" is also the name of an orchard/winery in Franklin, Maine, of which Kevin and I were made aware yesterday.
We braved the crowds of Bar Harbor (hoping they wouldn't be so bad... but they were) on one of the few nice days we've had this summer. As much of a tourist trap as Bar Harbor is, there are several shops that I love, including the health food store "The Alternative." Of course, I am a sucker for any health food store... but this is one of my favorites.
As we browsed the wine section, a display marked "Shalom Orchard" caught our eyes. There wasn't an awful lot of wine on this display, but one of those bottles was full of "Cranberry Cyser" honey wine. Honey wine! The first glass of honey wine I ever had was in NYC, on Valentine's Day this year, at a very cool organic restaurant called (originally enough)
The Organic Grill.
It was a blackberry honey wine, and it was love at first sip. I have never been much of a wine drinker, but that wine made me one. This is the first honey wine I've seen since then. We decided to give it a shot.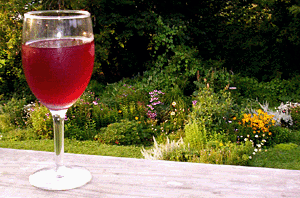 I like this picture because I love the way the late afternoon sun is hitting the wine, and I like the view -- that's one of our landlord's several gardens in the background. She works very hard on them, and as a result, this is the view we get from our deck.
But back to the wine. I am far from knowledgeable about wine, its terminologies, and what I should be looking for/smelling/tasting when I drink it. I just know whether I like what I'm drinking or not. This is a sweet, tart, sparkling wine, and I like it. A lot. It is now my second favorite wine
ever
-- after the blackberry honey wine I had in NYC. =) Yes, I am a bit of a lightweight -- I like sweet wines, no matter what I'm eating. I obviously don't know much about food/wine pairings yet, either.
The display touted Shalom Orchard's wines as being organic. The label on the bottle does not make said claim, so I am unsure of its organic status. It doesn't matter. It's worth drinking. If it is, in fact, organic, all the better.
Also in stock at Alternative that day was Shalom Orchard's apple honeywine. We had a hard time deciding between the two, but decided on the cranberry because we hadn't had cranberry wine before.

As we stood at the register to pay for the wine, Kevin and the cashier had a brief conversation about the wine, of which I missed half. But I did hear the woman (I think she may be an owner of the store) say that they are scheduled to get some blueberry honey wine and a sweet mead later this week. We commented on how we hadn't heard of this winery before (and we have, in recent months, made ourselves familiar with most of the wineries within a 100-mile radius of Bangor!). She said that the orchard just started selling its wine, and only at her store! So, if you're anywhere within daytripping distance of Bar Harbor, we suggest a stop at Alternative to check out Shalom Orchard's wines. We will definitely be going back soon to try the other varieties!
Posted at 8/18/2004 6:49:33 pm by
KelliMelli
Permalink
Sunday, August 15, 2004
It's no secret that I am a cookbook junkie. In fact, I am just a recipe junkie in general. I have more recipes in more books and on more sheets of paper (whether photocopied, printed from the 'net, or handwritten) than I will ever get around to cooking. I even have
two
three-ring binders that I put plastic sleeves into that are completely full of recipes from friends, the 'net, magazines, etc...
One such recipe is one that I must have seen done on Food TV a few years ago. It's been so long now that I don't remember just where it came from. Upon closer examinaton this afternoon, I saw that it was "adapted from
Vegetarian Cooking for Everyone
by Deborah Madison." I think I have that book on my Amazon wishlist... but I digress. The recipe is called "Spicy Stir-Fried Tofu with Coconut Rice." Here's the recipe in its original state:
Spicy Stir-Fried Tofu with Coconut Rice

Fragrant coconut rice is a wonderful counterpoint to the hot and spicy tofu mixture. It's best to stir-fry it in a wok, but in a pinch you can use a large 12-inch skillet.
Ingredients:
1 tbsp Asian sesame oil
1 small onion, finely diced (1/2 cup)
1 tbsp finely minced fresh ginger
1 small clove garlic, finely minced
1/4 tsp turmeric
1-3/4 cups uncooked basmati rice
15 oz. can low-fat coconut milk
1/2 tsp grated lime peel
1/2 tsp salt
20 oz. extra-firm tofu, well drained and cut into 1/2" cubes
1 tbsp ground coriander
1 tbsp ground cumin
2 tsp granulated sugar
1 tsp salt
1/2 tsp paprika
1/4 tsp cayenne
2 tbsp peanut oil
4 scallions, white and light green parts coarsely chopped
2 tbsp fresh lime juice
1/2 cup chopped fresh cilantro

Preparation:
Rice: In 3 quart saucepan, heat sesame oil over medium-low heat. Add onion, ginger, garlic, and turmeric and cook, stirring often, for 8 minutes. Add rice to saucepan, stirring to coat. Ass coconut milk, 2 cups water, lime peel, and salt. Increase heat and bring to a boil. Reduce heat to low, cover and cook until rice is tender, stirring twice during cooking, 15 to 18 minutes. Remove from heat and let stand, covered, while you prepare tofu. DOn't worry if mixture looks wet - liquid will be absorbed by the time you're ready to serve.

Tofu: In a large bowl, combine tofu, coriander, cumin, sugar, salt, paprika and cayenne. Using rubber spatula, toss gently to coat. In wok or skillet, heat peanut oil over medium-high heat. Add tofu and stir-fry until crispy and golden, 5 to 7 minutes. Ass scallions and stir-fry until just wilted, 1 to 2 minutes. Stir in lime juice.

Divide coconut rice among plates and spoon tofu mixture on top. Garmish with cilantro and serve hot. Makes 6 servings.

The first time I ever made this recipe, I followed the recipe exactly, and it was great. Somehow, though, over the years, this recipe has evolved into something very much my own -- the tofu part is fairly similar, but the dish as a whole is pretty unique. I think it happened because I was too lazy to go through that whole coconut rice process, and because coconut milk isn't exactly the healthiest thing in the world. However it happened, I now love to make what Kevin and I affectionately call "Spicy Fu..." I made for him Friday night for his birthday dinner.

First, I drain one package of extra-firm tofu. Yes, just one. I cut it into 1/2" thick slices, put them between several sheets of paper towels, press them down with a cookie sheet and a few cans of veggies, and leave them for a few minutes, until they don't feel too wet to the touch.

While the tofu is being pressed, I start a batch of Basmati rice, cooked sort of Indian-style. I use about 1-1/2 cups of rice, 1-1/2 cups of water, a cinnamon stick broken into two or three pieces, 5 or 6 green cardamon pods, three or four whole cloves, and a pinch of saffron. That's another recipe I sort of turned into my own -- maybe I'll share the original with you soon. =) I bring the rice to a boil, then turn the heat down to low and just let it sit until the rice is tender. Then it waits until the tofu is ready...
After about 15 minutes of pressing, I cube the tofu and toss it with the spice mixture -- slightly modified. I use a little more coriander and a little less cumin and salt than the recipe calls for. That's just how I like it. I put it into my biggest frying pan with just a bit of vegetable oil and cook it on medium-high until the texture pleases me. I like my tofu pretty dry and chewy. Then I squeeze on the juice of half a lime, and add the scallions. I use the whole bunch instead of just four. Why waste them? I slice the white parts into pretty small pieces, and the green parts into 1" strips. This all cooks for just a few more minutes, until the onions have wilted. Then I squeeze on the juice from the other half of the lime and serve the mixture over a bowl of rice. There is no cilantro in my version of this recipe. What an evil herb! Instead, I garnish with a little grated lime peel. Here's how my "Spicy Fu" looks when it's done: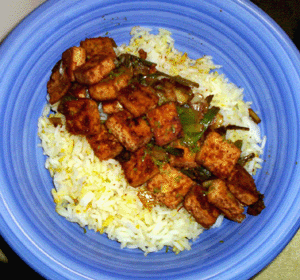 I love the way the rice came out this time. I used just a bit more saffron than usual, and tried not to stir it up too much as it cooked. The result was this multi-colored mix of white, yellow, and orange rice. Gorgeous! The tofu, as always, came out great. I can't imagine using the amount of spice mixture the original recipe makes on two packages of tofu -- I think the flavor wouldn't be nearly pronounced enough. With just one package, it makes a crunchy, flavorful crust. The scallions somehow absorb some lime juice and turn out tangy, sweet, and oniony. It's just such a great dish. I love to tell the story of how one night a couple of years ago, I asked Kev if he wanted pasta or Spicy Fu for supper. He chose the Fu! Whenever anyone tells me they don't like tofu, I tell them that story, and that they just haven't had it done the right way -- the Spicy Fu way!
Posted at 8/15/2004 8:37:03 pm by
KelliMelli
Permalink
Saturday, August 14, 2004
Yesterday was Kevinís birthday. In addition to getting him a totally cool present (I buy the best gifts!), I made one of his favorite dishes for supper (which I will post about tomorrow!), and the best cake Iíve ever made and/or had. Maybe Iím just a bit too proud of myself, but everything was working for meÖ it all turned out great! Must have been a Friday the 13th thing.
But back to the cakeÖ in this post from a few weeks ago, I wrote about my new Bundt cake pan, and put out a plea for the perfect recipe for its inaugural baking. I only got one response, from Estelle of Le hamburger et le croissant. She sent me a link to the Williams-Sonoma site, which included a recipe for a cranberry-orange cake and some handy, helpful hints for baking with a Bundt pan. Thanks, Estelle! The hints were great -- I never would have thought to use a pastry brush to grease the pan, but I have no idea how I would have done it otherwise! =) I didn't end up using that recipe, but I will certainly try it in the near future. I love cranberries.

As I wrote in my post about my cake pan,
"This seems like a pan worthy of a decadent, ooey gooey, totally unhealthy cake."
I found all that and more in a recipe at
allrecipes.com,
one of my favorite recipe sources on the 'net. As soon as I laid eyes on it, I knew it was the perfect first cake for my new pan, and the perfect cake for Kev's birthday. It's called Irish Cream Bundt Cake, and here's the recipe as it's posted on the site:
Irish Cream Bundt Cake

Ingredients:

1 cup chopped pecans
1 (18.25 ounce) package yellow cake mix
1 (3.4 ounce) package instant vanilla pudding mix
4 eggs
1/4 cup water
1/2 cup vegetable oil
3/4 cup Irish cream liqueur
1/2 cup butter
1/4 cup water
1 cup white sugar
1/4 cup Irish cream liqueur

Directions:

1. Preheat oven to 325 degrees F (165 degrees C). Grease and flour a 10 inch Bundt pan. Sprinkle chopped nuts evenly over bottom of pan.
2. In a large bowl, combine cake mix and pudding mix. Mix in eggs, 1/4 cup water, 1/2 cup oil and 3/4 cup Irish cream liqueur. Beat for 5 minutes at high speed. Pour batter over nuts in pan.
3. Bake in the preheated oven for 60 minutes, or until a toothpick inserted into the cake comes out clean. Cool for 10 minutes in the pan, then invert onto the serving dish. Prick top and sides of cake. Spoon glaze over top and brush onto sides of cake. Allow to absorb glaze repeat until all glaze is used up.
4. To make the glaze: In a saucepan, combine butter, 1/4 cup water and 1 cup sugar. Bring to a boil and continue boiling for 5 minutes, stirring constantly. Remove from heat and stir in 1/4 cup Irish cream.

Makes 12 servings.

I followed the recipe to the letter, which is unusual for me. It made the ooiest, gooiest, thickest cake batter I've ever seen, which I took to be a good sign of things to come. You would not believe how good it smelled as it baked. It also rose way above the top of the pan!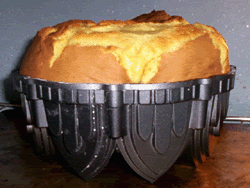 It settled a bit as it cooled, but I still had to cut off a good amount before inverting it onto a plate. Mmm... cake scraps! =) At that point, it looked like this: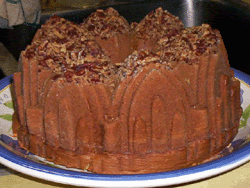 How gorgeous it that?!? I was getting a bit too excited to contain myself, and I didn't even have the glaze on it yet! The glaze turns out to be this gooey, Irish Cream flavored, caramel-like liquid (with all that butter, how could it be any other way?). Like the kitchen didn't smell good enough already! It was pretty thick, and didn't really soak into the cake quite the way I imagined it would. I spooned and brushed on what I thought was more than enough, and still had leftovers. Next time I make this, I will probably cut the glaze recipe in half. And trust me, it's so rich that half of the recipe is plenty! Here's how it looked when it was done, sitting in the pool of glaze that ran off: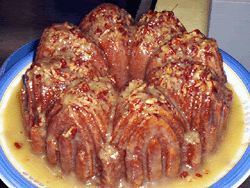 And here's the slice I served to the Birthday Boy: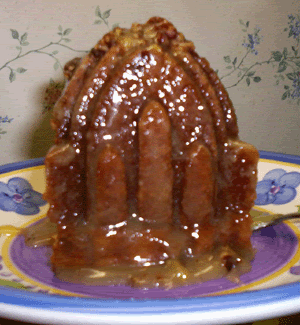 No fancy presentation, no garnish. It stood up well enough on its own. I can't even begin to describe to you how good this cake is. It's a bit denser than a traditional layer cake would be, but still somehow seems to have a light texture. That almost makes sense, huh? It's moist. It's flavorful. I taste-tested a bit of the scrap before I glazed the cake, and was pretty sure I'd be drunk before I even ate a piece of the finished product -- the Irish Cream flavor in the cake alone is that pronounced! Then top it with the buttery, caramelly, Irish Creamy glaze... Holly Holy! It totally exceeded my expectations. I knew it would be good, but this was amazing. Kevin was pretty much rendered speechless. And, of course, the shape of the cake is too cool for words, isn't it? It makes me want to go back to Paris and visit Notre Dame...

Thank you, Sue Haser, whoever/wherever you are, for submitting this recipe to allrecipes.com!

And happy birthday, Kev. I love you.


---


On a more serious note, and I know I'm a little late in acknowledging this, Julia Child died yesterday. I have never exactly been a huge follower, but I cetainly respect her for all that she contributed to the culinary world. She died just two days before what would have been her 92nd birthday.

Linda of "At Our Table" has a great Julia anecdote here. And the New York Times did a great writeup about Julia, her life, and her accomplishments here.
Posted at 8/14/2004 8:18:06 pm by
KelliMelli
Permalink
Friday, August 13, 2004
"You're Just the Cutest Little Dumpling."
The event/theme was announced three weeks ago, and it just occurred to me this morning to post a cross-reference to it. Our lovely host this month is Redbeard of
"Food Porn Watch"
and
"Life in Flow."
As I signed myself up for the event, I read others' comments on Redbeard's site, and saw that there is some question as to exactly what qualifies as a dumpling. Here is my two cents' worth, as I posted in my comment:
"As far as the debate on what qualifies as dumplings, I have to go with my man Alton Brown. He did a great show on the subject. I don't remember all the details, but he talked about how every culture has its own form of dumplings, and there are so many things that are counted as such. I clearly remember him talking about gnocchi and ravioli, as well as filled wontons, biscuits dropped onto and cooked with stews, pierogies, spaetzle..."

There I go again, talking about something I'm not even entirely clear on. I'll have to check out
Food TV's site
and see if any of the recipes from that episode of "Good Eats" are still available.
Most of my life, "dumplings" were something that didn't interest me. As far as I knew they were just biscuit dough dropped onto some kind of soup or stew, so they cooked by way of steaming. All I could imagine was soggy, gummy bread in my soup. Now that I've declared myself to be a "foodie," and have watched countless hours of cooking shows, I know that the term "dumpling" covers a multitude of dishes. Most commonly, a dumpling is pasta or dough stuffed with any imaginable filling. Ravioli, knishes, pierogies, crab rangoon, and gyoza all fit this bill. Dumplings can also be balls or lumps of dough dropped into a liquid and cooked, much like my childhood images of chicken and dumplings, Italy's gnocchi (mmm... gnocchi!), or German spaetzle.
How do I feel about dumplings now? I'm toying with a couple of ideas... maybe I'll even try more than one. You'll just have to check back on August 22nd to see what I make and how it comes out!
Posted at 8/13/2004 7:37:36 am by
KelliMelli
Permalink