---
About Me
---
My Other Blog
---
An Amazingly Accurate Representation of ME!
Created at...
Portrait Illustration Maker
---
Today I Feel...


---

Bangor, Maine
Current Conditions
---
New York, New York
Current Conditions
---
My Favorite Food Blogs:

Bento TV
Diary of the Food Whore
A Finger in Every Pie
Le hamburger et le croissant
My Little Kitchen
The Red Kitchen
Super Eggplant
Vegan Lunchbox

---
Other Sites I Frequent:
Delicious TV
Food Network
Food Porn Watch
Geocaching
Knitting Sunshine
Stories from the Gymrat
WABI TV5
The Way Life Is
---
---
---
RSS Feed
(This is new to me, but I think it will work!)
---
---
All content on "Culinary Epiphanies," including all text, photographs, images and any other original works (unless otherwise noted), is copyrighted © 2004 - 2009 by Kelli Hanson, with all rights reserved. Please contact me for permission to copy, publish, broadcast, distribute or display the work.
---
---
Contact Me
Thursday, July 29, 2004
Cool as a Cucumber (or two, or five)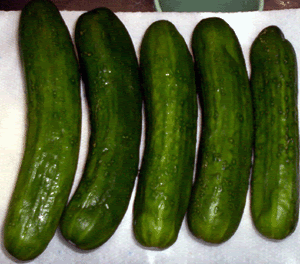 It's hard to tell from this picture, but these are mini European cucumbers. Or English cucumbers. Or seedless cucumbers. Or burpless cucumbers. They go by many names. I think it's a regional thing. Whatever you choose to call them, I can't call them anything but cute! The longest one might have been six inches long, and they're a little less than an inch in diameter. I love European cukes. They're crisp, crunchy, and best of all, not waxed! When I saw these minis in the store, I just couldn't resist.
They came up on the receipt as "European pickling cucumbers," which scared me. The pickling cukes my parents used to grow were bitter, but made damn fine pickles. I was afraid the same would be true for these. It wasn't. They taste just like their adult counterparts.
Saturday night I made a very simple salad out of these. I sliced them into thin-ish slices and put them in a storage container. I threw together a few dashes of sushi vinegar (that's just rice wine vinegar with sugar and salt added), a couple splashes of ginger flavored soy sauce, and a drop or two of toasted sesame oil. I poured the dressing over the cukes, let them marinate for a while, and served them to my family. They were a huge hit. You may remember that I also served lasagna that night. It was a bit of a culture clash, but somehow it worked.
Tonight I set out to make more of that salad for myself. It's hot and humid here again, and it seemed like the perfect thing for supper. I thought I'd try something I've seen on Food TV countless times, but never dared to try -- after I sliced the cukes, I put them in a colander and liberally sprinkled them with salt. The theory is that the salt will leach out a good portion of the water so that the cukes will stay crunchy, and not make the salad watery. The reason I never tried this before is because I was afraid the cukes would get too salty, even after rinsing. They did. How disappointing. I went ahead with my salad prep anyway, thinking the dressing would drown out the saltiness. It didn't. I added a bit of Sucanat (unrefined sugar -- I don't keep much white sugar in the house!). It helped a little. Here's what it looked like in the end...


"Too Cute Cucumber Salad"


It's still quite a tasty salad, but still a bit too salty for my taste. I'll probably add a bit more Sucanat before I eat the rest. And I will never salt sliced cucumbers again... even if Alton Brown does say it's the thing to do.
Posted at 7/29/2004 7:20:44 pm by
KelliMelli
Permalink
Wednesday, July 28, 2004
Remember
this post
where I was drooling over a Bundt cake pan I had seen in a catalog? Well, Kev and I went to The Good Table in Belfast (Maine, not Ireland!) on Monday, and look what I found!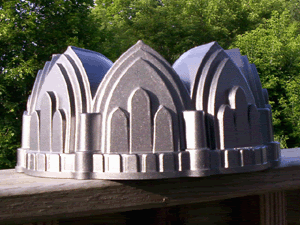 It's the Nordic Ware cast aluminum "Cathedral" Bundt pan. Isn't it just so Goth? Not that I'm a "Goth," but it's
so
cool. It makes me think of all the beautiful old churches I've seen in Europe.
This seems like a pan worthy of a decadent, ooey gooey, totally unhealthy cake. Not that there's anything wrong with my
banana cake,
but I think I want something a bit more exotic to make for this pan's inaugural use. Last week, Mariko of
"Super Eggplant"
put out a plea for the perfect chocolate cake recipe. And now it's my turn. Do you have a perfect Bundt cake recipe? A few from
"All Recipes"
have caught my eye, but I'm open to suggestions!
Posted at 7/28/2004 7:04:58 am by
KelliMelli
Permalink
Monday, July 26, 2004
TWIZZLERS!


I saw on "Confessions of a Foodie" this morning that my favorite candy is 75 this year. Kevin and I celebrated accordingly (we really only ate a few apiece -- but the whole package looked pretty good spread out on this plate!).

I couldn't confirm an actual date of invention, but Twizzlers definitely came to be in 1929. Yay!!! Within his post, Tom asked "what's your favorite flavor?" He listed eight, four of which I'd never heard of. And as far as I'm concerned, if it's not strawberry, it's not a Twizzler.
Posted at 7/26/2004 7:08:47 pm by
KelliMelli
Permalink
Saturday, July 24, 2004
How to Win Friends & Influence People
Lasagna. Who doesn't like it? And who doesn't like it even more when someone else makes it for them? I decided to cook supper for Kevin, my parents, and my nephew (who's visiting from San Diego) tonight. My mother was thrilled to hear that news, and even more thrilled that I was thinking about making lasagna. Kevin even stayed home an extra day for it! =)
Here's my recipe for "Impress Your Friends and Family Lasagna:"
1. Buy a box of Barilla no-boil lasagna noodles.
2. Follow the recipe on the box, but leave out the ground beef and substitute lots of chopped veggies.
3. Bask in the glory of the compliments you receive when others eat it.
When I make lasagna for Kevin and me, I usually use shredded carrots, diced celery, diced onion, and diced bell peppers (red, green, both, neither... whatever suits my fancy that day). I chop them, mix them up in a bowl, and put a couple handfuls in with each cheese layer. My dad, however, is a Celery Hater. He won't go near anything with celery, celery seeds, or celery salt. Bearing that in mind, can you believe that when he built our house circa 1973, he painted my bedroom walls CELERY green? That's actually what it was called! And yes, it was as hideous as it sounds. I finally talked him into repainting about ten years later. Anyway... to compensate for not being able to use celery in tonight's meal, I used the following veggies: carrots, red onion, green bell pepper, orange bell pepper, and tomato. The tomato was a new twist for me. I figured, I like it on pizza, so why not in lasagna? It all worked out very well. Everyone was duly impressed. Even Kyle complimented me! How many 7-year-olds do you know who comment on someone's cooking? He's such a good kid. =) Here he is, posing for the camera:

He's quite a ham.
That's the only picture you get tonight. The lasagna, as tasty as it is, is just not photogenic. I won't tell you
exactly
what the picture I took looked like, but Kevin said it looked like something out of those driver's ed movies they show you about wearing your seat belt and such.
Posted at 7/24/2004 10:52:24 pm by
KelliMelli
Permalink
Thursday, July 22, 2004
Writing for the Sake of Writing
I feel like I should apologize for my sporadic posting as of late. Maine's been caught up in a stretch of what local meteorologists like to call the "icky stickies." It's been in the low 80s with
very
high humidity since about last Saturday. I know, some of you around the country would love to get some of this weather, but frankly, it just brings me down. And yes, it does get hotter here sometimes. I HATE the 90s. 80s are bad enough. This weather completely saps me of any trace of energy, and it messes with my allergies and asthma. It's too hot to cook, and almost too hot to even eat. I'm eating a lot of convenience-type foods -- healthy ones, of course! =) Organic cheese and crackers,
lots
of fruit, pb&j sandwiches, smoothies, and I even tried a Linda McCartney frozen pizza the other night -- "spicy thai-style vegetable." It was pretty good, but the crust left something to be desired. Instead of tomato sauce it has peanut sauce, and is topped with lots of colored bell peppers, mushooms, onions, and something that closely resembled cilantro, but didn't tase much of it (thank God!). I also have a package of her butternut-squash ravioli in the freezer.
Yesterday was smoothie day. I had a container full of pineapple in the freezer -- the leftovers from Sunday's
grilled fruit kabobs
. Into the blender it went, along with soy milk, a frozen banana, and a golden kiwi that desperately needed to be used. It was an excellent smoothie, I have to say -- icy from the frozen pineapple, and very refreshing. I'd post a picture, but it really doesn't look any different from the smoothie I wrote about
here.
On a bit of a side note -- did you know that insulated travel mugs make great smoothie containers for hot summer days? Put a straw in the hole you're supposed to drink from and you're on your way. The smoothie stays nice and cold for at least as long as necessary!
Yesterday was also pool day. My aunt and uncle, who live about a mile away from me, have a
gorgeous
pool in their
gorgeous
backyard, and my aunt is about the only one who ever uses it, now that my cousins have moved away. She practically
begs
us to come over, and we feel we must oblige. =) Yesterday she and I got into a long discussion about food and recipes and such, which reminded me I wanted to get her recipe for strawberry bread. I usually don't like my fresh strawberries to be messed with -- I especially don't want them to be
cooked
-- but this bread is fantastic. Moist and spicy and fruity. It's supposed to cool down a bit this weekend, so I'll probably bake a batch and post about it soon. I still have a refrigerator full of berries from
Saturday's excursion.

Anne (my aunt) also told me about a book she's reading:
"The Time Traveler's Wife"
by Audrey Niffenegger. Anne is a smart, smart woman, but described this book as "strange" and "hard to get your head around." I love, LOVE,
LOVE
Jack Finney's
"Time and Again,"
and this sounds kind of similar. It could be pretty good... unless it's trying too hard to rip off Finney, in which case it could suck ass (pardon my French!). By the way -- the sequel to "Time and Again," called
"From Time to Time,"
is not nearly as good as its predecessor, but is still worth reading for the "I read the whole series" factor...
How does life get so hectic? My nephew has been in town almost a week now, and I've barely seen him. It's not like I'm right out straight with work and such, but somehow time just gets away from me. I work from 4 am to noon, go home, go grocery shopping or something, and suddenly it's bed time (which comes
way
too early). Kyle will be here another two weeks, though. I may have to steal him away from my parents some afternoon to get some quality time with him!
Kevin's been home since last Friday, which has been great. He's been filling in so much at the radio station that he's only been home for three or four days at a time over the past few weeks. Unfortunately, he's leaving this weekend and will probably be gone for a week and a half. =( This will be a rough stretch for a lot of reasons, not the least of which is that the DNC will be in full swing next week. Have you seen the reports on the national news about the huge security measures being implemented? Should I really be afraid of a terrorist attack happening in Boston next week? I work in TV news and I don't even know what they're trying to tell us! There are just a few too many mentions of the Madrid train bombing for my liking.
This has turned into more of a "general musings" kind of post than a food kind of post... but I think I mentioned in my
first entry
that this might happen from time to time. Writing is great therapy for me. Who needs a shrink? =) Thanks for your patience. I really will get back into a food mood soon. I've also been reading a few new (to me, anyway) blogs lately, and will post links to them very soon. Look for them on the left-hand column of this page!
Posted at 7/22/2004 7:51:05 am by
KelliMelli
Permalink