I'm back from vacation, but life is far from back to normal. Vacation was very nice, thanks… until my car broke down in Ossipee, NH on Sunday – which just so happens to be 175 miles from Orrington, Maine. I'll spare you the gory details, but in summary, my car is now in Wolfeboro, NH, and I have to figure out how to get there on Thursday (which means taking another day and a half off from work!) to retrieve it. I love Wolfeboro, but you just can't get they-ah from he-ah by public transportation! Ack.
Meanwhile, it's cold, windy, and rainy here today, and I have two produce drawers full of the apples that Kev & I picked a couple of weeks ago. How are the two related? It's the perfect formula for making my favorite apple-cranberry-almond crisp!
The original recipe for this came from "Diet for a New World" by John Robbins. Fascinating reading, BTW – John is a Robbins of Baskin-Robbins fame, and is now a vegan, activist, and author (and, I have to say, a bit more of an extremist than I usually fall for... but still very interesting). If you're at all interested in a vegan, Earth-friendly diet, it's well worth the read!
Anyway – John's recipe is called "Caramel Apple Crisp." It calls for raisins and walnuts, both of which I quite strongly dislike, and "Fruitsource," "an all-natural sweetener… made from grape juice concentrate and rice syrup," which I find to be extremely expensive. I use Sucanat instead – it costs more than white sugar, but less than Fruitsource!

You can, of course, look up John's original recipe, but here's what I've turned it into…
October Crisp
Core and thinly slice 4 to 5 small to medium apples. Peel them if you like, but I don't bother. This should fill an 8x8 square baking pan about ¾ full.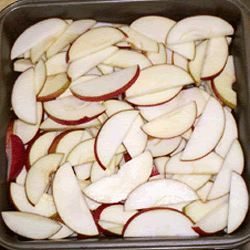 Sprinkle on a couple handfuls of dried cranberries, and a couple handfuls of toasted sliced almonds.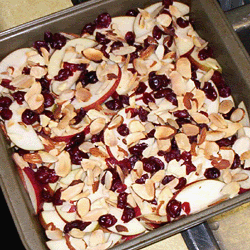 In a small bowl, combine the following:
1 cup rolled oats
¾ cup Sucanat
½ cup whole-wheat pastry flour
1 teaspoon ground cinnamon
¼ teaspoon fine sea salt
John's recipe calls for 1/2 cup of vegetable oil to be added to the dry mixture. I went crazy today and reduced it to 1/3 cup, and it was plenty. So mix the dry ingredients with the amount of oil you choose. Sprinkle the mixture onto the apples/cranberries/almonds.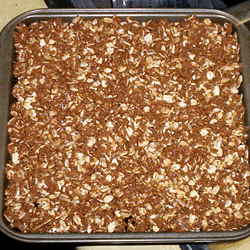 Bake 30 to 35 minutes at 350.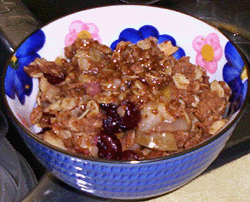 This is just perfect fresh out of the oven. There are some who would probably prefer it for dessert, with whipped cream or ice cream on top. I like it straight up. Warmed, of course. For breakfast.
Posted at 10/12/2004 6:14:16 pm by
KelliMelli
Kelli


October 13, 2004 04:16 PM PDT



As always, everyone, thanks for the comments! =) This is one of my favorite things to make in the fall... hence my re-naming it "October Crisp." =)

AJ -- I have to admit, you're a new "face" to me! I looked at your blog this morning -- great work. I'll add a link to your site soon!
Estelle


October 13, 2004 08:49 AM PDT



Looks *really* yummy :)
Linda


October 13, 2004 12:00 AM PDT



That looks wonderful! I'll definitely be making this one. I have lots of houseguests coming this month and this is the kind of thing I think many of them will love having fresh and warm. Yum---thanks for sharing this recipe!
AJ


October 12, 2004 11:26 PM PDT



Wow that looks gooood. :)