---
About Me
---
My Other Blog
---
An Amazingly Accurate Representation of ME!
Created at...
Portrait Illustration Maker
---
Today I Feel...


---

Bangor, Maine
Current Conditions
---
New York, New York
Current Conditions
---
My Favorite Food Blogs:

Bento TV
Diary of the Food Whore
A Finger in Every Pie
Le hamburger et le croissant
My Little Kitchen
The Red Kitchen
Super Eggplant
Vegan Lunchbox

---
Other Sites I Frequent:
Delicious TV
Food Network
Food Porn Watch
Geocaching
Knitting Sunshine
Stories from the Gymrat
WABI TV5
The Way Life Is
---
---
---
RSS Feed
(This is new to me, but I think it will work!)
---
---
All content on "Culinary Epiphanies," including all text, photographs, images and any other original works (unless otherwise noted), is copyrighted © 2004 - 2009 by Kelli Hanson, with all rights reserved. Please contact me for permission to copy, publish, broadcast, distribute or display the work.
---
---
Contact Me
Tuesday, September 21, 2004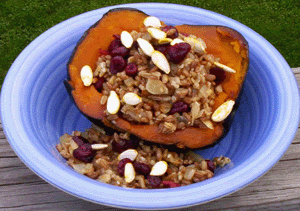 This dish was inspired by
this recipe
at
epicurious.com
, but it really turned into something entirely my own, based on my tastes and supplies!
Pilaf-Stuffed Squash

Ingredients:
2 buttercup squash (or should that be
squashes
?)
olive oil
1 packet
Kashi
Seven Whole Grains and Sesame Pilaf (which isn't truly pilaf -- it has no added herbs, spices, or other seasonings)
olive oil
1 medium onion, chopped
1 tsp ground dried sage
2 tbsp lemon juice
1/4 cup toasted sliced almonds
1/4 cup dried cranberries
salt & pepper to taste
Preheat oven to 375.
Cut squash in half ("vertically," from stem end to blossom end). Scoop out seeds and pulp (save the seeds -- they can be roasted* just like pumpkin seeds!). Place squash halves cut side down in an oiled baking dish. Bake 35 - 40 minutes, until squash flesh is tender.
While the squash bakes, prepare one packet of Kashi pilaf as directed on the package. Set aside.
Saute onion in small amount of olive oil until translucent. Add sage, saute 1 minute more. Add pilaf, lemon juice, salt, pepper, almonds, and cranberries. Stir until all ingredients are heated through.
Place squash halves on plates. Fill cavities with pilaf. Garnish with cranberries and squash seeds (if you chose to roast them) or almonds (if you didn't roast the seeds!).

One squash half with pilaf makes a very satisfying vegetarian entree!

* To roast seeds: separate them from the pulp, removing as much of the "string" as you can. Rinse well, then pat dry. Toss with just enough oil to coat, and salt to taste. Roast at 300 for about 45 minutes, until toasty and crunchy. Before today, I hadn't roasted pumpkin/squash seeds in years. Yum!!!

I cooked just one squash, so I have plenty of pilaf left over for lunches this week. =)

If you looked at the original recipe, you saw that it calls for acorn squash. I prefer buttercup -- I like the flavor better, and I think it looks a lot more like an acorn than acorn squash does! I actually (unintentionally) overcooked mine a bit, so the shells were pretty soft -- not quite suitable for serving on plates. But I really like the roasty, caramelly flavor it got from being cooked those extra few minutes.

As much as I like rice, I thought this dish would be a lot more fun with the Kashi grain mix. It has a variety of nice flavors and textures from the different grains, and is even healthier, with lots of fiber, protein, iron, and cholesterol-lowering oats. I'm really glad I tried it. I may never eat plain brown rice again!

Also, I left the squash flesh intact in its shell, rather than mixing it with the pilaf. I think it's fun to scoop up a forkful (or spoonful) of the pilaf, scraping up a bit of squash along with it.

I'm sure this pilaf would make a great stuffing for summer squash, too... or bell peppers... or even turkey for you crazy meat-eaters! And, of course, there's no reason not to serve it as a side dish on its own.

I love it when a plan comes together.
Posted at 9/21/2004 4:42:00 pm by
KelliMelli
north face jackets sale


November 26, 2012 08:42 AM PST



I really do appreciate your feedback. I'm still struggling with the technology but I wish everyone all luck with this competition. I've been pinned down with a sick grandchild and today a very sick daughter - both with gastric flu which afflicts us all at this time of year - so this is the first moment I've had to get to the computer,930858,http://culinaryepiphanies.blogdrive.com/archive/92.html
Moncler 2012


September 25, 2012 08:35 PM PDT



Super cute! My little man would look so stylin' in those!,267120,http://culinaryepiphanies.blogdrive.com/archive/92.html
moncler women


September 16, 2012 04:35 PM PDT



I follow you VIA GFC and I love your blog!,565331,http://culinaryepiphanies.blogdrive.com/archive/92.html
belstaff leather jackets


September 15, 2012 12:15 AM PDT




This blog is very interesting, content is very exciting, finish see there are a lot of feeling, I hope you can write better articles...
birkenstock sandals nederland


August 5, 2012 04:46 AM PDT



thanks for your article,like your blog very much,well done,652883,http://culinaryepiphanies.blogdrive.com/archive/92.html
air jordan retro


April 26, 2012 11:22 AM PDT



Hey man Very inspiring article. basicall,I am a .Net programmer. But earlier I I wanted to be a system programmer. But I could not succeeded in that field. When I read this article It inspire me about system programming. Please provide me good site where I could read such articles.,297593,http://culinaryepiphanies.blogdrive.com/archive/92.html
Kelli


September 22, 2004 05:41 PM PDT



Irene, is that you again? =) I love winter squash, but rarely find myself actually buying it. I am so weird sometimes! This is definitely a recipe that will get me to eat squash more often.

Emily -- I did add the cranberries at the last minute. I can sympathize with your husband -- I never thought I'd eat fruits in savory dishes until fairly recently. I guess my tastes have finally grown up! But maybe he'd like the cranberries with the sweet squash...? If you come up with a variation on this dish, I'd LOVE to hear back from you to see what you came up with.
EmilyB


September 22, 2004 01:04 PM PDT



Mmm, sounds good. I have a kabocha squash in the kitchen waiting for me to do something with it - it may wind up in a variation on this idea.

I take it the cranberries get added right at the end and cooked long enough to be warmed through? My husband and I disagree on the desirability of fruit in savory dishes (I love it, he doesn't), and if I can add the cranberries at the last minute to my portion only, he's more likely to actually eat his, instead of just tasting it and deciding he doesn't like it. <sigh>
Name


September 21, 2004 09:09 PM PDT



This looks fantastic. In the fall I get an abundance of squash, and I am definitely going to keep this in mind as I go!