7:00 Sunday morning -- I peeled off the crust and found this: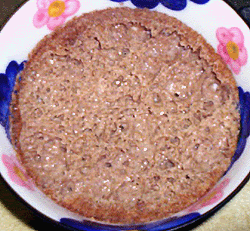 I mixed it with flour and water to make "a stiff (but sticky!) dough," and had to move it to a bigger bowl. This ball is about the size of a navel orange: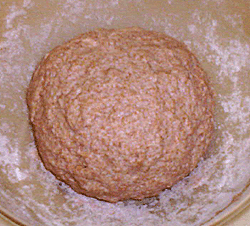 I was supposed to add twice as much flour as the original started with, but now that I think about it, I may have only added 1/3 cup instead of 2/3. It was early. What can I say? But anyway. At 5:30 Sunday evening, here's what how much it changed:

No, I remember now -- I added 2/3 cup of flour, and 1/3 cup water, and then had to add a bit more flour. I may be able to set my sponge tomorrow morning!
Posted at 9/12/2004 6:15:55 pm by
KelliMelli