I've been reading the "Anne of Green Gables" series this summer... it's almost as good as the "Little House" series... almost. Every time Anne eats some of Marilla's plum jam, I drool. All I can think about is the plum thicket on my grandfather's land, where my mother and I pick grape-sized, red-skinned, yellow-fleshed plums in the fall, if the deer don't get them first. Plum jam is not something that's common around here. But thinking about those tiny, sweet-tart plums, how can plum jam possibly be bad? I embarked on a mission. I came up short at the grocery store, but I found some organic plum jam at the Belfast Co-Op. Yay!! It's called St. Dalfour Deluxe Fancy Plum Spread. The label reads: "An Old French Recipe. A delicious fruit spread made in France by an old recipe. Fancy Plums sweetened only with grape juice concentrate. By gently cooking in the tradition of the French countryside, the natural flavor of the fruit is conserved." Translated from French, non? =) It's a lovely shade of golden amber -- much like the color of honey. I decided this was the closest I was going to get to what Anne ate on P.E.I. a hundred years ago.

Now... what's the best way to eat this jam...? Homemade bread, of course. But what kind? Oh, my head. It has to be just right. Old-fashioned. What kind of bread would Anne have had? A search for that info turned up nothing. I though about making something from my "Little House Cookbook," with the logic that Anne's and Laura's time periods were not too far apart, but then decided that would be like Crossing the Streams or something. Then I thought I'd make Anadama bread, an old-fashioned New England bread. New England is close to PEI! I finally decided to stop thinking so much and just make what I feel like eating. Something chewy and seedy. Something hearty, but not too dense or heavy. I bought some 7 grain and seed mix and some whole rye flour at NLC (Natural Living Center -- Bangor's health food store) the other day. They were calling to me. I got out one of my favorite bread books, "The All-New Ultimate Bread Machine Book," by Tony Lacalamita. I highly recommend it. Don't let the name fool you, though -- as is my usual method with bread baking, I use his recipes to make dough in my machine, but I always bake it in the oven, as a loaf or rolls or whatever suits me at any given time.


After two days of flipping through the book and marking recipes, I decided on "Mulitgrain Bread." How original of me. It's just what I want right now, though. Here's the recipe:

1 1/2-Pound Loaf 2-Pound Loaf


water 1 cup 1 1/4 cups
egg, extra-large 1 1
vegetable oil 2 tbsp 3 tbsp
salt 1 1/2 tsp 2 tsp
honey 3 tbsp 4 tbsp
flax seeds 1/4 cup 1/3 cup
coarse cornmeal 2 tbsp 3 tbsp
rolled oats 2 tbsp 3 tbsp
bread flour 2 1/4 cups 3 cups
whole-wheat flour 3/4 cup 1 cup
rye flour 2 tbsp 3 tbsp
dry yeast 2 1/4 tsp 2 1/4 tsp

1. All ingredients should be at room temperature. Liquid ingredients should be approximately 80 degrees F. Add ingredients in the order specified in your bread machine's owner's manual.

2. Select basic cycle and normal or medium crust.

3. Remove baked loaf from pan at the end of the baking cycle, and cool on a wire rack at least one hour before slicing.

I, of course, couldn't just let the recipe be. Instead of flax seeds, I used my 7 grain and seed mix. The ingredients aren't listed on the bag, but I positively ID'd cracked corn, flax seeds, cracked wheat, and millet seeds. The rest is left to my imagination. I just hope I don't crack a tooth on something in the bread! I substituted it one-to-one for the flax seeds.

I've been dying to try fresh yeast in something, instead of dried granules. This seemed like a good place to start. I read in another bread book the other day that fresh yeast isn't recommended for bread that will be baked in the machine, but it's fine if you're just mixing dough in it. That's me! What fascinating stuff fresh yeast is. It smells so good, and had a really odd texture. It's more solid than I expected it to be... almost like Fimo or Silly Putty, but it flattens, then breaks up, instead of stretching. As I crumbled it into the machine, I had a moment of panic -- would those lentil-sized chunks of yeast actually break down, mix thoroughly into the dough, and make it rise?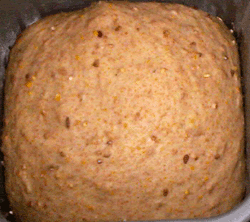 They did. After the first rise, I dumped the dough out of the pan, deflated it a bit, and let it rest for a few minutes. The resting is something I've read about many times, but never tried until very recently. I was always too impatient. But what a difference it makes! I could never figure out why bread dough was so hard to manipulate into a loaf shape. Now I know... just ten little minutes make it so much easier to work with. After resting, I rolled it out into a rectangle, rolled it up jelly-roll-style, and put in into a pan. I made the 1 1/2-pound loaf, which normally would be baked in a 9x5 loaf pan. I, however, have these really funky pans I got at The Good Table in Belfast.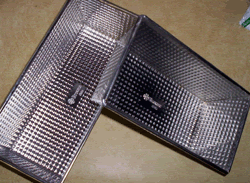 The smaller ones are the traditional 8x4, but the larger ones are 10x4 1/2. It all seems to work out in the end. I love these pans. They're aluminum, so the crust doesn't get too dark, and they're dimpled all over, so as to release the cooked bread more readily than a smooth pan.

Another rise, for about an hour. I find that the best place to proof dough in my apartment is in my oven with just the light on -- no turning the oven on! It's warm and draft-free, just like all the recipes want for rising dough.

Into a 350 oven for about 45 minutes, and...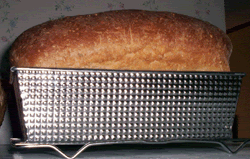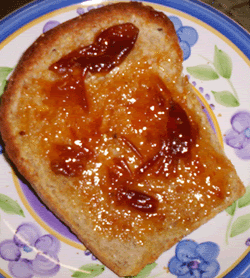 I can only hope Anne enjoyed her bread and plum jam as much as I enjoyed mine.
Posted at 8/24/2004 7:26:30 pm by
KelliMelli