Anyone who knows me knows I keep weird hours: I work Monday through Friday from 4 am to noon. This means I get up at 3 am five days a week. Needless to say, I sleep as much as possible on weekends. You know how "they" say you should try to keep the same sleep schedule all week... go to bed and get up on weekends at the same time you do during the week? Well, "they" obviously don't work the hours I work! I usually wake up around 7:30 or 8 on Saturdays & Sundays, but I'm rarely actually up and about before noon. Today was
not
one of those days. In a strange burst of motivation, I got up, ate breakfast, showered, went to two farmer's markets and two grocery stores, and was back home by 10. The grocery store trips were uneventful, but the farmer's markets were well worth my time.
The first one I went to is in Brewer. It's open Tuesday through Saturday from 8 am to 1 pm. This one is hard for me to get to. If I try to go on a weekday after work, all the good stuff is gone by the time I get there. And on Saturdays, as I said, it's just hard for me to get motivated in time to get there before closing. But by God, I was there just after 9 today, and look what I got: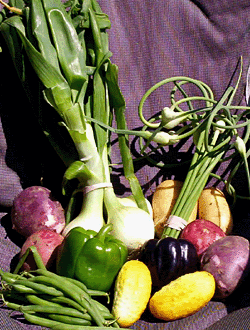 Beautiful
onions, potatoes in
three
colors, green beans, a green pepper, a purple pepper, garlic scapes, and
yellow cucumbers.
I thought they were some kind of mutant squash until I saw the sign. They're called "Boothby Blond," and they're heirloom cukes. When I asked the woman at the stand about them, she told me that the Boothbys are a family in Livermore Falls who saved the seeds and raised the crops from way back whenever, hence the name. She said they're good for pickling, but good for eating as is, too. I will probably slice them and drizzle on a little raspberry vinegar.
I also got my first wild blueberries of the season: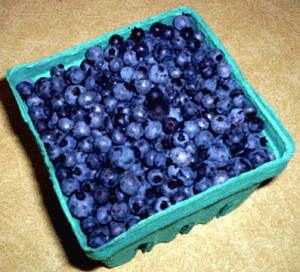 There have been reports that this year's blueberry crop will be small because of the brutally cold winter we had. Fortunately, though, as I found out today, the crops that are growing aren't lacking in quality! These berries are some of the sweetest I've ever had, with just a happy little hint of tartness that makes Maine's wild blueberries so wonderful (and so famous!).

The second market of the day was the European/farmer's market in Bangor. This one is only open on Saturdays, and I just plain never think to go there. For whatever reason, I thought of it today. I'll be going more often now. It's run by a couple who also run a greenhouse and "Ingrid's German Gift Shop." My friend from Germany who used to live here visited this shop and market faithfully. She was especially excited that they carry "quark." Not the software -- the food. It's a thick yogurt cheese type of product that can be used for sweet or savory dishes. I could go on, but if you really want to know more, you can look it up in the internet. The Saturday market features local breads, pastry, meats, cheese, and produce. There was also a Hungarian woman there selling lots of hot pre-cooked dishes, and a Vietnamese(? I can't remember!) woman who makes fabulous Asian food. I know who she is, and have been to a couple of her cooking demos. She was also selling "take-out" dishes.
As interesting as this market is, I really didn't buy much. The bread had been pretty well picked over, I don't eat meat, and the only cheeses there were goat cheeses, which just taste too much like the smell of goats to me (my grandparents had a goat farm when I was a kid). I did, however, round out my vegetable bounty with these:
Sugar snap peas, some wonderfully sweet carrots, and one lonely little hydroponically grown tomato.

And I only spent about $15 the whole morning! Most of the produce I bought today is organic, which is very exciting for me. A lot of the organic produce at the grocery store just looks sad. These are all such beautiful veggies, and all locally grown, of course! I will definitely hit these markets more often through the rest of the summer and fall, and take advantage of the wonderful produce while I can. And yes, I already have plans for most of these veggies. You'll just have to check back here over the next few days to see what happens!
Posted at 8/7/2004 8:36:12 pm by
KelliMelli
Irene


August 8, 2004 08:06 AM PDT



That was quite a haul, particularly for only about $15! I never get out of a farmer's market that economically.

We get yellow cucumbers from our CSA. This was the first year we've gotten them, and they are great - they have a slightly different taste than your average green cuke.