This month's installment of Is My Blog Burning? is hosted by The Domestic Goddess herself, Jennifer. The theme she chose is "Holiday Cookie Swap." Yay! A baking project! I actually don't bake cookies that often, and I've already posted about the few I do bake, so this was actually a bit of a challenge for me. I have tons of cookbooks, but most of them are either bread books or vegetarian books. You wouldn't belive how hard I had to search for just the right recipe for this project! One finally jumped out at me from the pages of a recent "Woman's Day" magazine (it was my mom's, I swear!). This particular issue had a little tear-out cookbook called "The Christmas Cookie Jar." It's just a little 8 page insert with 8 or 10 cookie recipes, but one of those recipes screamed "bake me, bake me!"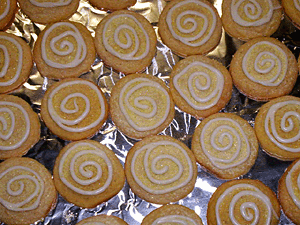 Cornmeal Lemon Drops

2 sticks (1 cup) butter, softened
1/2 cup each granulated sugar and packed light-brown sugar
1/2 tsp baking soda
1/4 tsp salt
2 large eggs
2 tsp grated lemon peel
1 tbsp lemon juice
1-3/4 cups all-purpose flour
3/4 cup yellow cornmeal
Icing (recipe follows)
40 lemon drop candies, finely crushed
You also need: a wire strainer

1. Beat butter, sugars, baking soda and salt in a large bowl with mixer on medium until fluffy. Beat in eggs, lemon peel and juice until well blended.

2. On low speed, gradually beat in flour and cornmeal until blended.

3. Heat oven to 350. Drop rounded measuring teaspoons dough 2 in. apart on ungreased baking sheet(s).

4. Bake 6 to 8 minutes or until golden brown around the edges. Cool on sheet 1 minute before removing to wire rack to cool completely.

5. Scrape Icing into a sturdy ziptop bag. Snip tiny tip off 1 corner and pipe a spiral on each cookie. Before icing dries, spoon crushed candies into sieve and dust tops. Let dry completely. Store airtight with wax paper between layers at room temperature up to 1 week.

Icing: Whisk 1-1/2 cups confectioners' sugar and 2 tbsp milk in a bowl until smooth.

I didn't futz with this recipe too much... I used 1/2 cup fine cornmeal and 1/4 cup coarse, and for the icing I used lemon juice instead of milk. It almost made too much sense to do so! =)

These cookies are a bit more labor-intensive than I am used to, but they are well worth it. They're soft and lemony with a nice little crunch from the cornmeal. Anyone who reads this blog on a regular basis knows how much I love cornmeal! They were also a huge hit with Kevin. Now I'm working on a lime version!
Posted at 11/21/2004 8:36:37 am by
KelliMelli
Kelli


November 24, 2004 08:20 AM PST



Thanks, everyone! These are easily on my Top 5 Favorite Cookies list now. I, too, love all things lemony, and the cornmeal is such an extra added bonus. They're sweet, tart, buttery, soft, and crunchy -- what a lot going on in such a small cookie. I can't wait to get to work on my lime version. =)
Carolyn


November 23, 2004 06:16 PM PST



The lemon drops sound a great addition to the cornmeal crunch. I shall have to try these.
Renee


November 23, 2004 01:38 AM PST



hi Kelli,
these look very pretty!
I love most things lemony... and I can just smell these already! I might just try these with semolina (which is more traditional in cookies for us over here) in place of the cornmeal.
thanks for sharing : )
Cathy


November 22, 2004 11:58 PM PST



Kelli - these are so pretty! They sound delicious too - bet the cornmeal gives them a nice crunch.
AJ


November 21, 2004 02:29 PM PST



Mmmm I will definately have to make these soon! :D